The manufacturing industry is an ever-changing fast pace sector and companies face many challenges each year. To be ahead of the pack and be competitive in all areas, businesses have to be constantly progressing and innovative to keep up with consumer demands.
More than ever, particularly in the oil and gas industry, companies are asked to design equipment that can handle extreme environmental conditions, whilst increasing safety, reliability, and sustainability.
With a reputation of producing great quality and regulatory compliant products, Refuel International  (RI) has been approached by customers to design refuelling equipment that can handle extreme conditions such as very hot and cold temperatures, high humidity, explosive environments whilst operating in remote areas.
Poorly designed equipment can result in operational failures that can be expensive to diagnose and hinder an entire operation. Over time, vibration, moisture, dirt, and dust can create havoc in a machine's electrical system. Furthermore, equipment used in really remote locations are often faced with access and logistics issues, resulting in longer downtime and can be incredibly costly for the clients.
Design needs and processes for such equipment are more meticulous than normal. Refuel International understands that designing units for such situations requires a combination of experience, knowledge and creativity. Our engineers take into account these stringent requirements during the design stage of development.
Recently, Refuel International designed and manufactured a Containerised Aviation Fuel System for use in Algeria. An established UAE based company approached RI to come up with a refuelling system for fixed light aircraft, capable of operating under the extreme conditions that Algeria presents. New to the aviation refuelling sector, the company relied on RI for experience, advice and provide them with the most economical solution. The brief is simple – design a product that is of high quality, tough enough to withstand the harsh environment and at a cost-effective price. The customer also sets stringent requirements around material testing and regulatory compliance. This project has set a benchmark for Refuel International's designing and documentation process. It has also marked an opportunity for the company to introduce a new product to its portfolio.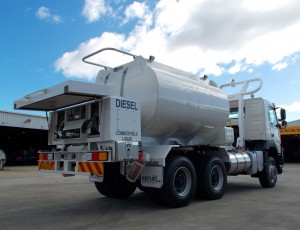 Another example of producing equipment for extreme conditions was the manufacturing of a Diesel Refuelling Tanker used in the mining regions of Central Australia. On top of dependability of the unit, Refuel International took into account the fact that the vehicle will be in operation around remote areas, therefore support and maintenance will be limited. Incorporating engineering principles from the Algeria project, our engineers designed the vehicle for minimal maintenance downtime through its life.
Refuel International's design flexibility and its ability to work closely with its customers makes for a trusting client-supplier relationship. Taking pride in the longevity and dependability of every piece of equipment it builds, RI places focus on its sales process from the first meeting through to product delivery. As a ONE-STOP business support provider, Refuel International is committed to continued growth as a leader in quality products for specialist fluid transfer applications.
Submitted by:
RIANA DING
Marketing Manager
Refuel International