Holden will host a tour of its Elizabeth plant this morning as a new round of negotiations gets underway to secure its manufacturing future in Australia.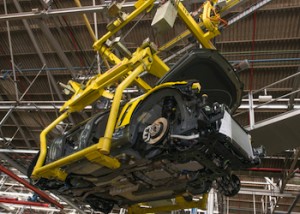 According to a report from The Australian the tour will be led by Federal Coalition Industry Minister Ian Macfarlane, who will visit the factory along with South Australian Labor Premier Jay Weatherill and other members from both sides of politics.
"We're hosting a tour and there is an opportunity to commence formal discussions about the future," said Holden spokesman Sean Poppitt, quoted in the report. "This is the beginning of ongoing discussions with the new government."
The tour will consist of a two-hour inspection of the Holden plant's day shift, in which 1,400 factory workers will go about their usual duties of building 335 Commodores and Cruzes. After this, a smaller group made up of senior politicians will have a closed-door meeting with Holden Managing Director Mike Devereux.
Holden was pledged a $275 million financial assistance in 2012 to secure its operations until 2022 but the company has since then asked for more money because it says market conditions have "changed dramatically" since the deal was signed. Holden said however that it could be some months before a resolution is reached. Minister Macfarlane believes it could be as long as six months before an agreement is reached.
"In terms of stabilising (Holden) I hope to do that before March next year," Mr. Macfarlane told News Corp Australia last week. "The challenge is to get them breathing by themselves without life support."
Mr. Macfarlane told ABC Radio last month that he is keen to meet with Devereux and have a tour of the plant.
"I haven't been through it since I was Industry Minister in 2007 so I wanted to see what sort of modernisation they've done. I think there's a great opportunity to make sure we make cars in Australia in 20 years time."
He warned however that if support were to be given to Holden it would be a one-time deal and that it will be contingent on better export volumes.
Earlier this month the Coalition government already promised that there will be a continued high level of assistance for the car industry but in return the manufacturers should be able to provide them with a reasonable indication of how they will increase volumes, particularly export volumes.
"I want the car industry in this country to have a long-term, viable future. I don't want it to live from hand-to-mouth," Prime Minister Tony Abbott said.