RMIT will hold its inaugural Design for Impact Festival from Thursday 23 July to Sunday 9 August at the University's City and Brunswick campuses and various City locations.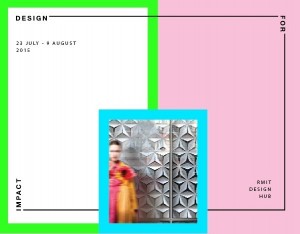 Led by RMIT's Design Research Institute, the Festival will include a series of events and activities that showcase the breadth of RMIT's design research and promote collaboration between researchers, industry and government.
Director of DRI, Professor Swee Mak, says the Festival would help to explain the role of design in achieving effective and sustainable solutions to complex societal issues.
"Design for Impact will show that design is much broader than just a method of planning or doing that leads to better products.
"Designing for meaningful impact is also a way of thinking that can lead to more effective solutions that affect every aspect of our lives – from the quality of living to national security, from public policy to economic, health, social, cultural and environmental benefits – which make it crucial for Australia's future," Mak said.
"The Festival will put multidisciplinary design research with meaningful impact in the spotlight and provides a key opportunity for interactive engagement between our research community and a broad mix of community, industry and government partners."
Showcasing RMIT's design and technology research, and innovation and entrepreneurship, Festival events – most by invite only, some open to the public – include:
Sketcha Kucha event with Materfad's Smart Flexibility exhibitor – Phil Ayre's, CITA, Copenhagen
Brain Waves Symposium
Co-design for Sexual Health Wellbeing and Aging
Teams made in Heaven – designing effective innovation teams
Designing Business Development
Disaster, Design and Development
Creating Impact from Effective Translation of Design Research
Fashion and Textiles Industry Seminar, and
Service design and Big Data.
The Festival also includes a major international touring exhibition – Smart Flexibility: Advanced Materials and Technologies, curated by Materfad, Barcelona, Spain.
Materfad is a Materials Centre that performs a research and technological surveillance task in the field of new materials.
Materfad, Materials Library Manager, Valérie Bergeron, said the Smart Flexibility Exhibition illustrated the result of combining flexible structures and active materials to form systems that interact with the environment and/or user.
"Working with DRI at RMIT, we have pinpointed the convergence of our ideas and opinions, on the role of new materials and associated technologies, to generate innovation in the industry through design. Thanks to the Australian curating team, the exhibition now includes three magnificent RMIT projects – Lumina, Penumbra and Aesthetics of Air," Ms Bergeron said.
"Bringing this exhibition to Melbourne is a great opportunity for further research in the field of Smart Flexibility, as well as being a key collaboration for us with a prestigious Australian university of technology and design."
Working in partnership with RMIT's Schools and research Centres, the DRI foster's new knowledge and innovative practice, products and environments through its transdiciplinary design research. Since 2009, DRI has showcased the work of collaborative multi-disciplinary design researchers who address real world problems, including innovative initiatives such as the annual Design Challenge.
Design for Impact continues this legacy by showcasing the vibrancy of RMIT's design research and innovation eco-system, as well as aiming to ensure that RMIT research is relevant to the needs of the community, government and industry in the years ahead.
[Media Release]