Climate Change Minister Ian Hunter and ACT Deputy Chief Minister Simon Corbell officially opened the first stage of Neoen Australia's Hornsdale Wind Farm near Jamestown, which began feeding energy into the grid last week.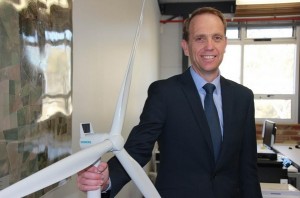 The site has been developed by Neoen, local partner Megawatt Capital Investments and infrastructure investor John Laing, after the French renewable energy company successfully bid for the ACT Government's 20-year wind farm contract in late 2015.
Under the ACT Government's innovative reverse auction scheme, Stage 1 of Hornsdale wind farm was awarded a feed-in tariff for 100MW of generation, which is enough to power up to 70,000 homes.
The ACT Government also awarded stage 2 of the Hornsdale project a feed-in tariff for an additional 100MW at a then-record low price of $77 per megawatt hour.
"Neoen, as a developer, investor and asset owner, has the recipe to bring together high quality, complex and innovative projects," said Franck Woitiez, Managing Director of Neoen Australia, adding that the company was planning to build more than 600MW of renewable energy projects in Australia by 2020.
"South Australia is home to our largest wind farm in the world, and such a welcoming place to do business. Neoen has an ambitious development target for Australia and the quality of our relationship with local communities, and government agencies allows us to continue investing in the state."
Mr Hunter said Hornsdale was an optimal wind farm site due to its access to strong wind, links to a high capacity power network that links Adelaide with the industrial north, and its relative distance from populated areas.
"As a government, we are delighted to see this project reach the energisation stage. About 41 per cent of South Australia's electricity is generated from renewable sources," the Minister said.
"Hornsdale is a unique example of what can be achieved with like-minded partnerships. We're bringing together the best of technology from Siemens who are building an operating the wind farm, international investment from Neoen the owner of this important project, the ACT government who are seeking the best value renewable offsets and South Australia who are Australia's leading renewable destination."
ACT Deputy-Chief Minister Simon Corbell said the wind farm will be a major component of the electricity generation needed to reach the territory's target of 100 per cent renewable energy by 2020.
"When complete the wind farm will provide around 27 per cent of the ACT's forecast 2020 electricity supply," he said.
"The ACT will benefit from a number of local investments from the developers of the Hornsdale wind farm, including a new Renewable Energy Skills Centre of Excellence at Canberra's Institute of Technology and new company headquarters for the developer, Neoen."
Siemens was contracted to provide 32 of its 3.2MW turbines for the Hornsdale project, as well as to set up a skills centre to train engineers.
David Pryke, Head of Siemens Energy Businesses in Australia & NZ, said the project was the epitome of partnership combined with the best technology to bring ingenuity to life for the benefit of society.
"We have a long and proud history of over 144 years in South Australia and it's a great place to do business. A complex project like Hornsdale can only be achieved through willing and capable like-minded partners," Mr Pryke said.
"The outcome is that it's good for the environment, good for the economy and good for the community – all critical ingredients for sustainable success."