Aerospace engineering students from RMIT University have won top prizes in the international Airbus "Fly Your Ideas" competition, according to news on the RMIT website.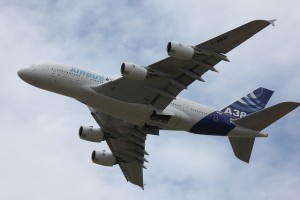 The competition which was started in 2009 runs every two years and aims to foster innovation in the aeronautics industry.
"Fly Your Ideas is a student challenge," says Dale King, Senior Manager, International Research and Technology Partnerships, Airbus.
"The idea here is we're inviting student teams from around the world to think about ways in which we can make the aviation industry more sustainable, more eco-efficient. We're asking students to develop ideas, and promote and develop those ideas with us. We set up a structured competition to enable them to do that."
RMIT's Team ALMA, which stands for Affordable Liquid Methane Aircraft, won first place in the Airbus "Fly Your Ideas" best video competition. Their entry portrayed the impact of rising kerosene prices and the depletion of resources on air transportation and the environment.
"We are proposing a transition of fuel from traditional kerosene fuels to liquid methane which is a cheaper and more carbon-efficient alternative," says Tim Conroy, engineering student at RMIT and member of Team ALMA.
Meanwhile, Team CLiMA clinched the second place and €15,000 with their proposal to develop low-emission bio-methane fuelled airliners. The team joined four other finalists in Toulouse to present their ideas to a jury led by Charles Champion, Executive Vice President, Engineering at Airbus.
Team CLiMA was mentored by Dr. Graham Dorrington from the RMIT School of Aerospace, Mechanical and Manufacturing Engineering (SAMME), together with Enrique Tobias-Pena from Airbus.
Meanwhile Team ALMA was supervised by SAMME Associate Professor Cees Bil, who said that making students aware of the challenges in the aviation industry is an important part of their education.
"This competition inspires students to think creatively and to propose new ideas that will establish a sustainable future for air transportation," he said.
Mr. King of Airbus says the company aims to get the "best and the brightest" students in the world excited by the idea of working in aeronautics and thinking about the future of the sector.
"Some of the ideas we might pick up and take forward, some of the students may ultimately come and work for us," he said.
Dr. Dorrington says the CLiMA project will be used to develop ongoing research.
"We are now planning to develop the project as a research initiative, hopefully with Airbus support, and we will be presenting our ongoing research work at relevant conferences in the near future," he said.
"International competitions like this are really valuable because they make students aware of the broader context of their education. It makes them recognize that the world does need innovation and change and they can contribute to that and make a real difference."