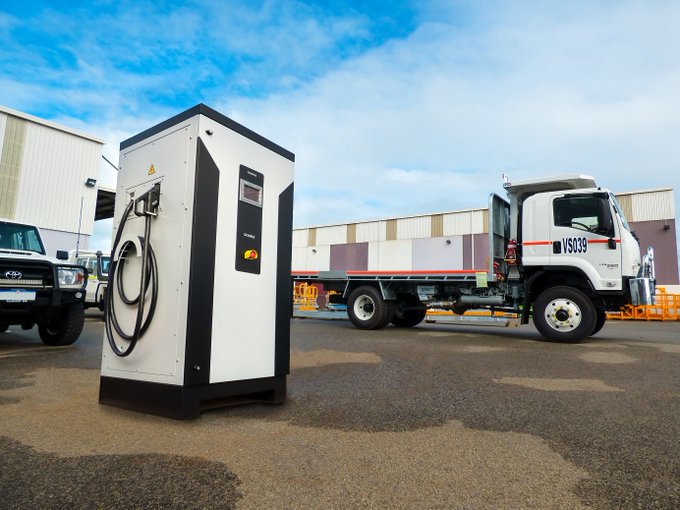 Global technology giant Siemens and West Australian mining services supplier Murray Engineering have developed a ground-breaking high-powered electric vehicle charging station specifically designed to handle the toughest underground mining conditions in Australia.
Siemens said the vehicle agnostic charging stations will first be used to power a new light electric vehicle (eLV) being designed and manufactured by Murray Engineering.
According to the company, the first of Murray Engineering's eLVs will be ready for testing by the end of the year, with potential application at mine sites by mid next year.
Under the agreement, Siemens will provide its Sicharge UC high power DC chargers, which provide a super flexible output range from 125kW to 600kW, allowing the charging stations to scale for light, medium and heavy vehicles.
Siemens said its Sicharge UC200 high power DC charger – which can fully charge a vehicle in minutes (rather than hours) – is already onsite at Murray Engineering headquarters in Pinjarra.
Murray Engineering, which employs more than 400 people across the country, will design and fabricate a heavy-duty enclosure to protect the unit from the harsh underground conditions and enable ease of manoeuvrability.
The enclosures will be air conditioned to protect the chargers and will have human machine interface (HMI) panels on the outside to control the unity.
Dr Max Ong, Innovation & Technology manager at Murray Engineering, said the company has the scale and access to test the solution through its parent company the Byrnecut Group, the largest underground mining contractor in the country, which also owns one of the largest fleets of light vehicles used in mines.
"Existing battery and charging solutions have fallen short of miners' expectations where it matters most," Mr Ong said.
"Their commitment to cleaner, healthier and sustainable energy requires that the technology delivers equal benefits to productivity, safety and efficiency.
"Through Murray's experience and technology capabilities, our fast-charging vehicles and infrastructure will deliver those benefits whilst enhancing asset value and through-life cost.
"Being part of the largest underground mining contracting company in Australia, we understand the vehicle requirements very well and are well placed to develop a solution that not only matches, but also pre-empts the needs of our customers and the industry," Mr Ong concluded.
Image credit: www.new.siemens.com