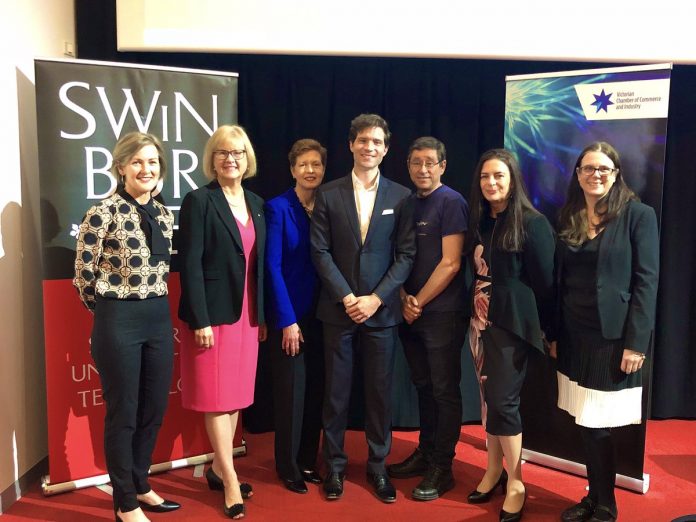 The Victorian Chamber of Commerce and Industry (VCCI) has partnered with Swinburne University to present its fourth event in the ignite series, designed to highlight, encourage and foster Victoria's revolutionary industry-linked innovation and research capabilities.
ignite is an exciting and ground breaking collaboration between the VCCI, the state's leading universities and the Victorian Government, aimed at bringing together business leaders with universities in bespoke partnerships to research, develop and commercialise innovative products, services, business model and processes.
Among the presenters at Wednesday's event are Swinburne's experts, Professor Matthew Bailes, Professor Bronwyn Fox, Professor Virginia Kilborn and Associate Professor Alan Duffy acting as MC, who will delve into the world of space industry as a rapidly emerging sector  to demonstrate how it is enabling Australia to access global value chains through advanced technology innovation.
Swinburne University Vice Chancellor Professor Linda Kristjanson AO said advancements in space technology and resulting practical application had 'unlimited potential for social and economic impact'.
"We are no longer on the cusp of an industrial revolution; we are at the centre. The rapid digital transformation of the manufacturing industry, or Industry 4.0, will influence the future of industry, the workforce and society," Ms Kristjanson noted.
"Helping our partners move into the burgeoning international space market is the natural extension of our current capabilities and knowledge."
"Swinburne has a long history of developing innovative and meaningful partnerships. By embedding industry on campus through partnerships, programs and placements, Swinburne links vocational training and higher education to create the skilled, digitally savvy workforce of the future. Industry partners that can utilise space technology and the skills and research behind it gives them – and our students – a competitive edge."
Victorian Chamber of Commerce and Industry Chief Executive Mark Stone AM said Victorian businesses are delighted to partner with Swinburne on 'opportunities to commercialise space technology'.
"Space is a $400 billion-dollar worldwide industry which continues to grow," Mr Stone said.
"Victorian businesses are already renowned for their expertise in satellite navigation, data analysis and manufacturing capabilities. If we want to remain competitive, we need to leverage our already strong skill-set and seize more opportunities within this booming billion-dollar industry.
"Swinburne is at the forefront of research and development in this field – so we know we are in the right place to learn more about the opportunities the global space industry provides Victorian businesses."