More than 40,000 people attended this year's FIRST (For Inspiration and Recognition of Science and Technology) world championship in St. Louis Missouri, which was the culmination of the 2015 FIRST season that gathered students from around the world to design, prototype, build and program a robot that put their mechanical, physics, programming and business skills to the test.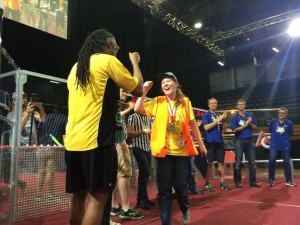 The FIRST Championship brings together three separate robotics competitions for the ultimate Sport for the Mind™, including the FIRST Robotics Competition (FRC) Championship, the FIRST Tech Challenge (FTC) World Championship, and the FIRST LEGO League (FLL) World Festival.
Australian students participating in the event started off at FIRST's Australian regional competition held in Sydney in March, which was a huge success attracting participants from not only around the country but also from Hawaii, Brazil, Taiwan, China and Singapore.
This was followed by the regional competition in Hawaii where teams from Australia and around the world participated in the FIRST Robotic Challenge (FRC) regional event.
"Recycle rush", the 2015 game, was a recycling-themed game played by two alliances of three robots each. Robots score points by stacking totes on scoring platforms, capping those stacks with recycling containers, and properly disposing of pool noodles, representing litter. In keeping with the recycling theme of the game, all game pieces used are reusable or recyclable by teams in their home locations or by FIRST at the end of the season.
Australia's "Thunder Down Under" team from Macquarie University won both the robot game and the overall Engineering Inspiration Award for outreach and community engagement in their division from a field of 76 robots representing the top FRC teams this year, which earned them the right to play in "Einstein", the elite grand final competition.
"To the best of our knowledge this is the best any team has ever done in divisional play. We are the first Australian team to get this far and the only international team to play for the grand finale. We were eliminated in the quarterfinals but did not get the wooden spoon at this most prestigious level," said Michael Heimlich, CORE Professor at Macquarie University.
"Our performance made us one of only four teams from nearly 3000 total to receive a NASA sponsorship and an automatic berth at next year's championship. FIRST has really only been in Australia for about six years so to be able to play at the highest level (Einstein) really makes a statement about how far Australian FRC has come in a few short years."
Sponsored by Rockwell Automation – the world's largest company dedicated to industrial automation and information – FIRST 's mission is to inspire young people to be science and technology leaders, by engaging them in exciting Mentor-based programs that build science, engineering and technology skills.