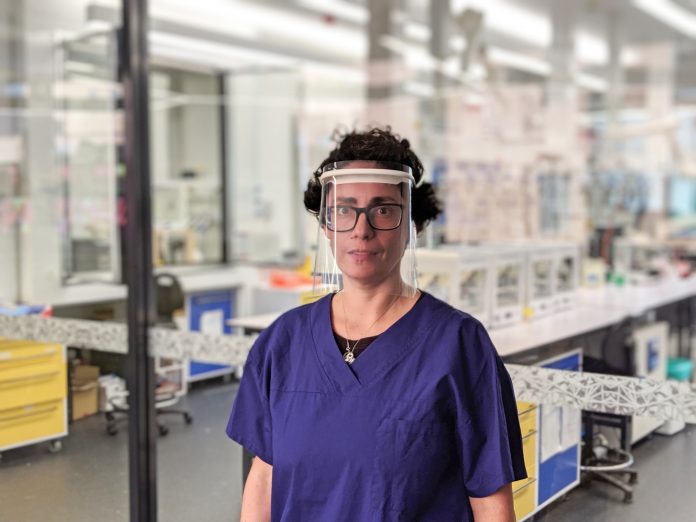 Media Release
RMIT engineers are 3D printing face shields for frontline healthcare workers in a rapid response to projected shortages during the pandemic.
A team at the university's Advanced Manufacturing Precinct (AMP) have so far made 950 prototype face shields to help protect clinicians from airborne droplets that can carry the virus.
Those on the coronavirus frontline have spoken out in recent weeks about the dire shortage of protective gear in Australia, with major hospitals in Victoria and Tasmania contacting the AMP for advice on manufacturing solutions.
Within days of receiving requests, facility technical staff had improved on an open-source face shield design and delivered the first batches to hospitals for testing.
AMP Director Professor Milan Brandt said they were now printing larger batches on the facility's bank of 3D printers, while also seeking industry partners to look at mass manufacture.
"We immediately understood the vital role of protective equipment in helping Australian healthcare workers get through this challenging time and have pulled out all the stops for an urgent response on this," he said.
"This includes refocusing existing partnerships and projects to meet this need."
RMIT's partnership with the BioFab3D lab at St Vincent's Hospital has focused on 3D printing medical implants since 2013, but pivoted to producing face shields as soon as COVID-19 hit Australian shores.
BioFab3D lab manager and RMIT Vice-Chancellor's Postdoctoral Fellow, Dr Cathal O'Connell, said they were well positioned to rapidly trial and improve designs.
"Our main role, being a fabrication lab based within a hospital, is that we can try multiple designs with the clinicians themselves, get their approval, and then send out the approved design to the big 3D printing sites who can manufacture them at scale," O'Connell said.
A simple solution
The simple, yet effective, design is easy to assemble and clean for reuse.
The shield consists of an A4-sized overhead projector sheet attached to a plastic support frame produced by RMIT, and held on by hair ties or elastic bands.
The team has also designed a variation specifically for Ear, Nose and Throat (ENT) surgeons that allows space for their spectacle-mounted headlights.
Melbourne-based ENT Head and Neck Surgeon, Dr Eric Levi, has received 70 of these specially-adapted shields and is encouraging other clinicians to trial them.
Levi applauded the responsiveness of BioFab3D and RMIT for delivering a simple, tailored solution for his profession within days.
"This is an example of how 3D printing skills are making an immediate difference to clinicians at the front lines facing the patients," Levi said.
"I'm grateful for this innovation and collaboration. We're all in this together."
AMP technical staff involved in this project include Paul Porter, Paul Spithill, Philip Pille and Bradley Sherwood.
RMIT's coordinated research response to COVID-19 includes several other projects, such as our Fashion and Textile engineers producing medical masks for healthcare workers.
---
Image Credit: www.rmit.edu.au