UK engineering firm Arup has developed a new method of designing and 3D printing steel joints in complex projects, and is on its way to revolutionise the construction industry.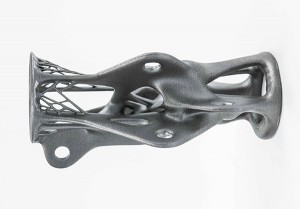 Arup engineers have managed to prove that 3D printing steel joints will drastically reduce the cost and time needed to make complex nodes in tensile structures, pointing towards a completely new way of utilising additive manufacturing.
By redesigning a steel node for a light weight structure, the team proved that 3D printing has no bounds and can have numerous applications "in the real world", especially in construction and engineering.
"Arup has a lot of experience with these kinds of structures; for example, the tensegrity structure of the Kurilpa Bridge in Australia. The complex geometry of these kinds of nodes is an ideal showcase of the possibilities of this new technique," it says in the news release by Arup.
"By using additive manufacturing we can create lots of complex individually designed pieces far more efficiently. This has tremendous implications for reducing costs and cutting waste. But most importantly, this approach potentially enables a very sophisticated design, without the need to simplify the design in a later stage to lower costs," comments Salomé Galjaard, Team Leader at Arup.
The company funded the development work and has partnered up with WithinLab (an engineering design software and consulting company), CRDM/3D Systems (the Additive Manufacturing partner) and EOS to exploit the full potential of steel 3D printing.
EOS worked on the early development of the technology.
According to the article on 3D print, EOS has proven that 3D printing of structural steel can reduce material consumption by 75% and CO2 emissions by 40% and has the potential to outperform any traditional manufacturing method in terms of sustainability, energy consumption, CO2 emissions, raw material efficiency, recycling, transportation of raw materials and manufactured goods.
Although the traditional way of manufacturing steel nodes is cheaper, Arup claims that 3D printing steel nodes will be the cheaper option in the future.