The Tasmanian State Labor Government and the Liberal opposition have reiterated their support for the construction of a pulp making plant, a decision that was met with approval by the Australian Forest Products Association (AFPA).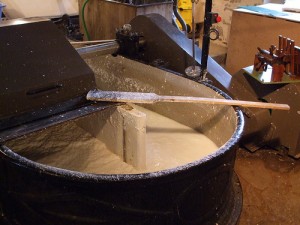 According to the latest media release by AFPA, the new pulp plant could potentially produce the material to replace the imported pulp which is the base material for producing high-quality paper and tissues.
KordaMentha, the Gunns' receiver, has advertised for sale plantations, permits, designs and lease on a site next to the Bell Bay Aluminium smelter.
Ross Hampton, AFPA Chief Executive Officer, says the people of Tasmania deserve to see the initiative materialise.
"Tasmanians made their views clear in the way they voted at the last federal election. They are not swayed by emotional arguments about large projects which have the potential to deliver hundreds of jobs as well as stability to communities."
"There are almost 230,000 ha of eucalypt plantation in Tasmania. Many of these trees were planted specifically to support the pulp-making mill and are now ready for harvest. Much of the wood fiber in question is a crop owned by hundreds of Australians – many of them family scale farmers. They should be given the chance to harvest and sell that asset."
Mr. Hampton says the pulp which would be produced in the plant will be in high demand for other products and would enable timber to be processed into a high-value product in Tasmania rather than being exported as a lower-value raw product.
"The pulp which would be manufactured in this mill will be in demand to be used in manufacturing of high quality textiles and paper. Pulp is also hailed as the new wonder material of the 21st century."
"With further manufacturing it can produce nano-chrystalline cellulose which is used in flexible electronic displays, bio-plastics and computer components in addition to the available renewable energy its manufacture would create."
Mr. Hampton said that there are positive forecasts about the future demands for tissue, paper and packaging. According to him, demand for these commodities is expected to grow from 400 million tonnes to 600 million tonnes over the next twenty years.
He also added that the new pulp mill will be equipped with state-of-the-art technology, as neither the community nor the AFPA would accept a pulp making plant with low production quality and environmental standards, which would prevent it from being competitive on the global markets.