On a 250 hectare site, 550 km northwest of Sydney, Australia's soon to be largest solar plant moves a step closer to completion. The installation of the 1.35 million solar photovoltaic modules has begun, which will give the plant a capacity of 102 megawatts, enough to power at least 33,000 homes.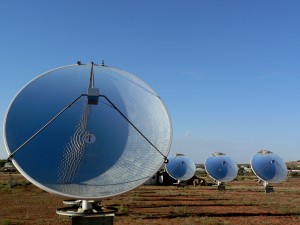 The plant costs approximately $290 million and is expected to be completed by July 2015. According to AGL's general manager Scott Thomas, an estimated $137 million will be generated for the regional economy over 30 years.
"AGL has already invested over $3 billion in renewable energy generation in Australia and with projects like the Nyngan Solar Plant, [it] is increasing the proportion of zero-carbon emission generation in the National Electricity Market," Mr. Thomas said.
In terms of promoting solar and wind energy, Rob Stokes, environment minister called for NSW to be "Australia's answer to California", which is now being reviewed for a possible cut by an Abbot Government appointed panel.
The Nyngan plant in AGL, a solar project in Broken Hill will cost $440 million, inclusive of $64.9 million from NSW coffers and $166.7 million worth of grants from The Australian Renewable Energy Agency (ARENA). ARENA meanwhile has funds worth $43.3 million from NSW.
"The NSW government's support for this project has been vital and a very important role in the widespread development of utility scale solar across NSW and across Australia," said Leslie Williams, Parliamentary Secretary for Renewable Energy.
"NSW has vast solar resources and has long been a standout leader in photovoltaic research," Ms. Williams said. "We are now taking the next step and becoming a standout leader in renewable energy development."
Nyngan's PV panels would stretch out on a distance equivalent to Sydney to Melbourne and back, roughly 1600 km.
The plants maybe the last plants in Australia to be built for some time considering an ongoing concern investors have about the Renewable Energy Target's future.
According to the Australian Solar Council, there is a less abrupt decline in small-scale renewable energy although tariff cuts and other support have seen PV installation's decline from 60,114 to 45,369 systems from the first quarter of 2013 to June 2014.