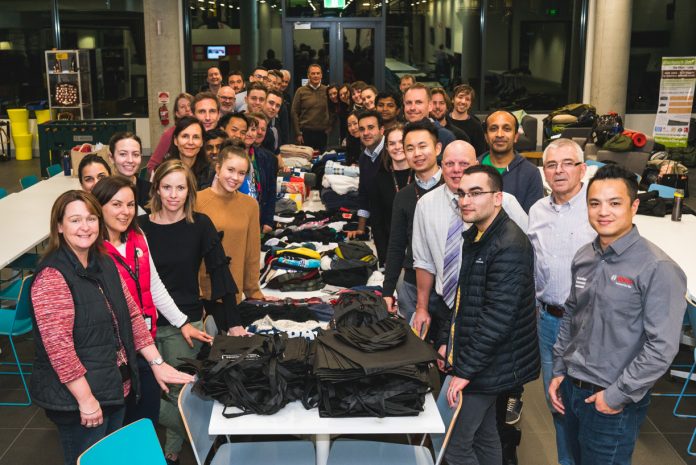 Over 60 Bosch Australia employees, including Bosch Australia President, Gavin Smith, slept outside at the Clayton headquarters on a piece of cardboard as part of a campaign aimed at eliminating homelessness.
Now in its sixth year, the community sleep-out and awareness campaign is designed to encourage employees to participate, volunteer, or donate funds to prevent homelessness.
The campaign has raised over $17,000 to date, with the money to go directly to the St Vincent de Paul Society programs that support people at risk of, or experiencing, homelessness.
In total, Bosch Australia and its employees have raised over $130,000 for St Vincent de Paul Society Victoria over the past 6 years.
Bosch Australia President, Gavin Smith, who has participated in seven CEO sleep-outs, says the company offers all employees the opportunity to support organisations in need of help by donating eight hours of their working time each year to a worthy cause.
"Each year, more employees participate, donate or volunteer to be part of this campaign to raise awareness and funds for homelessness and I thank them for doing so," Mr Smith says.
"Although I have now slept out at seven Vinnies CEO sleepouts and three company sleepouts at our Clayton facility, I still have no real concept of what it must be like to face this nightmare every day, let alone face it with a family. But I appreciate now more than ever why the paths to homelessness can be surprisingly short and how little has to go wrong for someone to find themselves in this predicament."
"Listening to stories of homelessness from those experiencing it and spending the night trying to sleep outdoors with a piece of cardbarod will change you. You will not be the same person in the morning. Your perspective will inevitably be shifted, for the better."
Vinnies Victoria CEO, Sue Cattermole says Vinnies Victoria is humbled by the leadership and support of the Bosch Australia team of the past six years.
"They have not only raised over $130,000 to sustain our volunteers' work in alleviating poverting and homelessness, but have slept out to experience life without their creature comforts too," she says.
"Bosch Australia is a shining example of how businesses can form meaningful and impactful relationships with charities – and better still, make community engagement and social justice a central part of their business model too."
"On behalf of our 12,000+ Vinnies volunteers in Victoria, I would like to personally thank Bosch Australia President, Gavin Smith, and his team for changing and improving so many lives."
Image provided