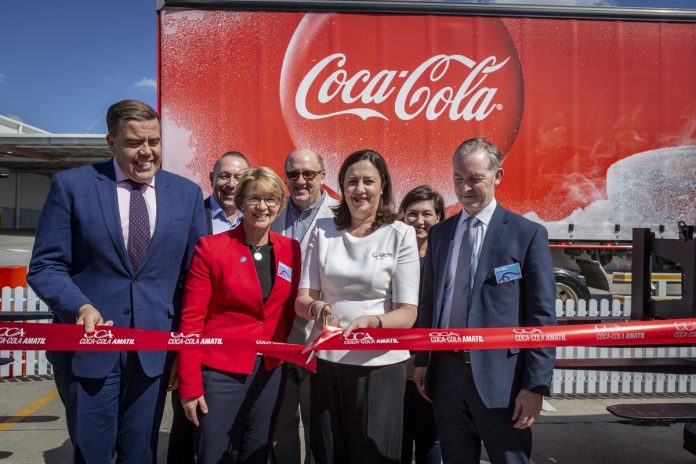 Coca-Cola Amatil officially opened its largest bottling and warehouse facility in Australia.
Located in Richlands, Queensland, the $165 million plant will support hundreds of new jobs and will be capable of manufacturing more than 90 million unit cases of drinks for national and export markets each year.
The official opening ceremony was attended by Queensland Premier Annastacia Palaszczuk, who described the investment as a '$165 million vote of confidence in Queensland.'
"Queensland has gained an international reputation as a great place to do business which is why Coca-Cola Amatil has developed this $165 million vote of confidence in Queensland," the Premier said.
"Queensland has low operating costs, a skilled and adaptable workforce, the lowest payroll tax in the nation, generous research and development incentives, excellent transport infrastructure close to Asia and other export links, and a dynamic and stable economy which is expected to reach three per cent growth this financial year."
"The manufacturing giants such as Coca-Cola Amatil are recognising all that's great about Queensland and are attracted by what my Government is delivering to develop opportunities and grow the economy."
Group Managing Director of Coca-Cola Amatil, Ms Alison Watkins, said the site was the product of a nationwide search for the best possible location to grow the company's business.
"Of all the sites we looked at, Richlands offered the strongest combination of road and port access, efficiency in production, access to east-coast markets and room to grow," Mr Watkins said.
"We also had great engagement with the Queensland Government, which was keen to support manufacturing investment and jobs."
Coca Cola Amatil is a major employer in Brisbane with 600 operational jobs at the Richlands site and 150 jobs created during construction of the new facility.
In addition to investing millions in the new plant, the company has partnered with fellow beverage manufacturer Lion to help deliver Queensland's first Container Refund Scheme.
Minister for Environment Leeanne Enoch said the scheme will help reduce waste, increase recycling, and will also create funding and employment opportunities.
"We are proud to have Coca-Cola Amatil on board with Lion to help drive the success of Containers for Change, which kicks off 1 November," Ms Enoch stated.
"I'm proud to say 177,500 new jobs have been created since my government took office in 2015."