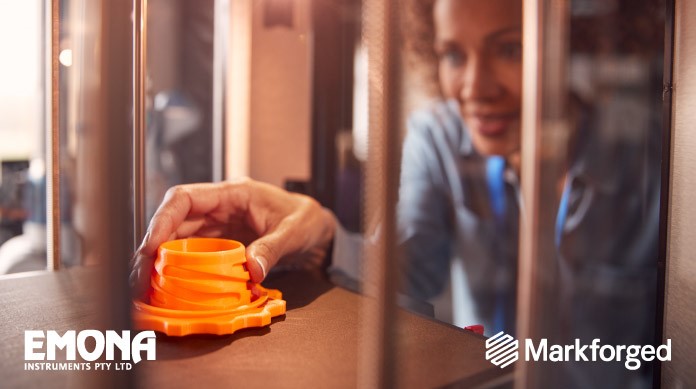 Sponsored Content by

Today additive manufacturing is flourishing across all industries, from applications in small businesses, government research, defence, manufacturing and educational institutions. The world has begun to realise 3D printers aren't just for fun, as individuals are now being exposed to additive manufacturing as early as primary school. 
As a general definition, 3D Printers or Additive Manufacturing is where a printer converts an electronic file into a 3D object. From concept to design to production, 3D printers make each stage of product creation a straightforward process and stimulating experience.
In particular, university students are pioneering the use of 3D manufacturing within education as the advanced technology furthers learning and innovation. Most schools use 3D printers for prototyping, designing small moving components, visualisations of complex models, research for improving the technologies and, in general, obtaining hands-on experience prior to graduation.
What are the Benefits for Students Using 3D Printing?
Additive manufacturing and education are a perfect match, as 3D Printing delivers a flexible platform capable and dependable for high-mix and low-volume learning that is popular for educational institutions.
The most valuable attribute of 3D manufacturing is that students get practical hands-on learning with design tools, making them better candidates for any job they seek after graduation. As 3D Printing skills are in high demand not only in engineering and manufacturing industries – with over 10,000 machines in the field today – but such skills are easily transferable to many other employment positions.
As students become experts with the new technology before graduation, students are immediately capable of using the equipment for professional fabrications. Recent graduates can also up-skill unknowledgeable co-workers on how to use the equipment productively, which alone could take a company six months to understand.
Additive manufacturing accelerates student innovation and learning because they can go from an idea to a functioning prototype in a small amount of time. Allowing students to create custom geometries that were unfeasible with traditional manufacturing. Instead, 3D printers creative engineer-grade models with composite materials, continuous fibres, and metal alloys on a safe and accessible platform.
Not only do students benefit from the 3D Printers, but it's common for local companies to partner with universities for printing access. Making it possible for small businesses and trades to use the advanced technology without the need for huge capital to purchase their own 3D printer.
Case Study – University of Technology Sydney, ProtoSpace
UTS ProtoSpace is Australia's most advanced additive manufacturing facility. It provides access to advanced 3D printing and scanning technologies along with specialised technical support, linked education and engagement opportunities.
The ProtoSpace was the first Australian installation of the Markforged Metal X. The Markforged Metal X is a revolutionary 3D printer that prints metal powder bound in a plastic matrix to eliminate safety risks associated with traditional metal 3D printing methods while enabling new features like closed-cell infill for reduced part weight and cost. The Metal X is an ideal system for both the student learning environment and industrial engagement opportunities.
Case Study – University of Adelaide, ThincLab
The University of Adelaide ThincLab prototyping studio supports advanced product conception and design, from the factory floor to the operating room. With advanced hardware, software and materials as well as on-demand manufacturing services and a team of experts, ThincLab is helping to transform businesses through manufacturing innovation.
ThincLab showcases the Markforged X7 as a critical 3D printing solution. The X7 prints industrial-grade manufacturing jigs, jaws, tools and fixtures. The X7 is designed from the ground up to survive the production floor environment and is capable of printing parts more robust than machine aluminium for a fraction of the cost.
Case Study – Rochester Institute of Technology
RIT has roughly 19,000 students and is the third-largest producer of undergraduate STEM degrees among all private universities in the United States. Students have access to the full range of Markforged printers both in their classrooms and in the university's AMPrint Centre.
RIT's Additive Manufacturing and Multifunctional Printing (AMPrint) Centre is among the world's first research centres to specifically focus on Multifunctional 3D Printing. The research topics RIT students focus on includes:
Synthesising new applications for 3D printing
Designing multi-material technologies that can print polymeric, metallic, and even ceramic materials simultaneously
Creating novel applications to take advantage of new multi-functional 3D technologies.
Case Study – Purdue University
Purdue University founded an advanced prototyping facility and manufacturing centre started by students, for students. The whole 3D Printing facility is free for students; from electric skateboards to electric racing cars, students are pushing their boundaries of creativity and fabrication skills.
The idea behind the centre is to have students try their hand at creating something new and drive a product from idea to actualisation, and they have the opportunity to use 20 cloud-enabled 3D printers.
Where to Source 3D Printers for Your Educational Institution
Nearly 1000 schools and universities worldwide currently run on Markforged solutions. With more school roll-outs predicted for 2021, a growing number of students are graduating prepared for 21st-century careers with additive manufacturing.
Not only can students harness the power of 3D Printing, but anyone can obtain 3D Printing certifications and become a certified additive expert with the convenience of Markforged University, now available online with a new eLearning platform.
Emona Instruments is a leading Australian supplier of Markforged Industrial 3D Printers and 3D Materials. We cater for a range of budgets, functions and technologies, suitable for R&D professionals, production lines or the classroom.
From Markforged Carbon Fibre Composite and Metal 3D Printer's printing in stainless steel, tool steel, copper and Inconel, through to Formlabs SLA 3D Printers printing resin. Contact the Emona team for more expert information and technical support on (02) 9519 3933, email testinst@emona.com.au or visit Emona Instruments.