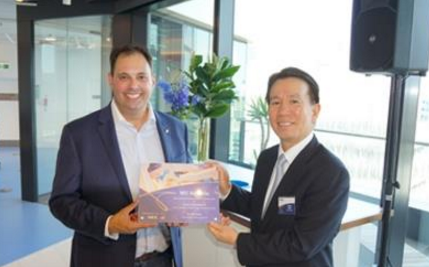 Technology services company NEC Australia has officially opened its new Australian headquarters and Innovation Centre in Melbourne's Dockland precinct.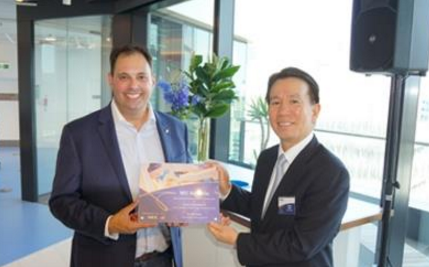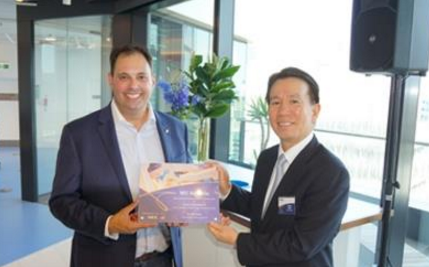 The office – which occupies 6,000 square metres across two floors – will be home to 600 staff and will house the company's new Innovation Centre, which will offer customers a hands-on experience of its internationally recognised technology and innovations in facial recognition, fingerprint scanning, and enterprise mobility.
Victoria's Minister for Small Business, Innovation and Trade, Phillip Dalidakis, who officially opened NEC Australia's new headquarters on Thursday, said the investment will help the company achieve its goal to deliver a safe, secure, and sustainable society through innovation and great ideas, which are core to Australia's future.
"Victoria is fast becoming the place to do business, both in Australia and across the Asia Pacific, and with top tier companies like NEC leading the charge, our reputation is getting stronger and our talent pool deeper. The Andrews Labor government welcomes NEC's decision to increase their investment in Melbourne by opening a new HQ and innovation centre," the Minister said.
Tetsuro Akagi, Managing Director of NEC Australia, said the new headquarters is a benchmark in design and construction that reflects NEC's transformation to a high performance technology services company.
"It is a living showcase of a modern and flexible activity based working environment which perfectly illustrates how we orchestrate NEC's global innovations with local expertise and partnerships to deliver a smarter and safer Australia," Mr Akagi added.
The Innovation Centre is supported by NEC's Software Defined Networking (SDN) technology, a new way of building data networks that allows the design, deployment and ongoing operation of these networks to become more agile and cost effective than ever before.
"NEC's SDN solution is a natural choice to support the Innovation Centre as its inherent flexibility enables the network to easily adapt to the changes of different network traffic and service requirements. In addition to the agility that SDN brings, the Innovation Centre's security, monitoring and visibility of all network services is also greatly improved as compared to a traditional network design," the company said in a media release.
"NEC Australia has invested over $200 million in developing Australian innovation over the past 15 years, which today helps it deliver unparalleled ICT support and services from Darwin to Hobart. Much of that innovation can be traced back to NEC Australia's former headquarters in Mulgrave, on the outskirts of Melbourne where it has operated for over 47 years. The facility has played a vital role in developing local ICT skills in Victoria and has generated new employment opportunities to serve customers across the nation."