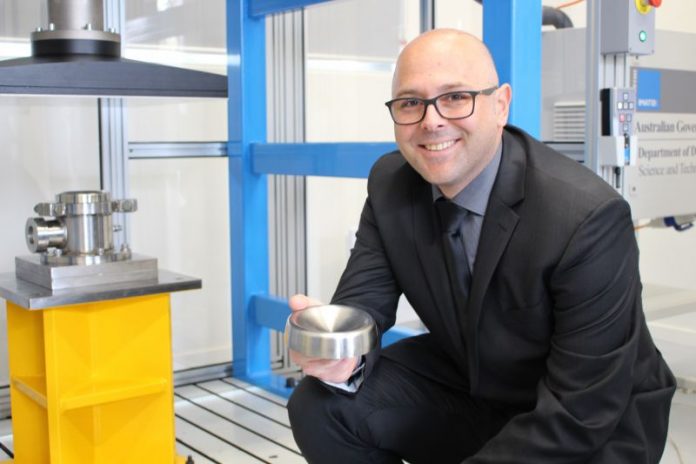 A joint initiative between Defence Science and Technology and the University of Tasmania has resulted in the opening of the new Underwater Collision Research Facility (UCRF) at the Australian Maritime College (AMC) in Launceston.
The collaboration saw Defence Science and Technology fund the purchase of equipment, whereas the University provided the building capital works and support infrastructure to house the facility at its Newnham Campus.
Minister for Defence, Senator the Hon Linda Reynolds said UCRF was a key part of the University of Tasmania's Maritime Defence Innovation and Design Precinct and would support Australia's National Shipbuilding capability.
"The Underwater Collision Research Facility is an exciting new development which will provide us with a better understanding of the impact of underwater collisions," Minister Reynolds continued.
"Researchers will look at ways of improving ship and submarine design which will keep our Navy crews safer by improving the safety of our submarines and autonomous underwater vehicles."
University of Tasmania Vice-Chancellor Professor Rufus Black said the facility would be used to simulate the collision of underwater vehicles under laboratory-controlled conditions, adding to an existing suite of maritime research facilities which are the most advanced in the Southern Hemisphere.
"We are committed to making a technical contribution to the development of Australia's sovereign naval ship building program commensurate with our role as the national maritime institution," Professor Black continued.
"The opening of this new facility builds on the historic strengths of the University and the AMC and illustrates the impact-literally and figuratively-Tasmanian science and engineering can have on meeting national challenges."
Facility manager and AMC project lead Roberto Ojeda added:
"The presence of water changes the dynamics. And when you're dealing with underwater vehicles, the water isn't just around the vessel, it's within it, which means, under impact, these structures behave very differently to structures colliding in dry environments.
"Understanding how structures respond to these events allows us to better assess risks and to mitigate them through design."