Canada's OPTrust, GE, Downer, Partners Group and British company Renewable Energy Systems (RES) will finance a 25-year wind farm project, the third biggest in Australia, near Ararat in south-west Victoria.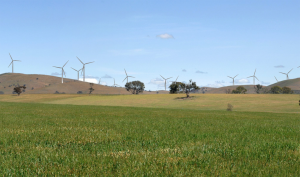 The decision was reached right after the announcement that legislation to cut the renewable energy target (RET) passed Federal Parliament, with Labor and the Government agreeing to reduce the original 41,000 gigawatt hour target.
This is the first renewables project after the resolution of the RET stalemate. The wind farm is set to generate enough electricity to power the equivalent of 123,000 homes.
The Ararat Wind Farm will comprise of up to 75 turbines, each with a blade tip height of up to 135m above ground level.
According to the official news release, construction is expected to span two years, with power delivered to the grid from April 2017.
"With certainty comes investment – that's our experience overseas and that's what we'll see here in Australia now that the RET is fully resolved. I congratulate both the Coalition and the ALP on restoring the policy certainty needed to enable investment and job creation. This decision has immediately unlocked half a billion dollars of direct foreign investment into Australia," said Geoff Culbert, President & CEO, GE Australia, New Zealand and PNG.
"The wind farm will have significant local impact. It will employ around 165 workers directly in the construction phase, another 120 indirectly, and is expected to inject at least $7 million – $8 million into the local economy around Ararat over two years. The project will also establish a local community fund which will inject over $2 million in support of good causes over its lifetime."
Benjamin Haan, Managing Director and Head of Private Infrastructure, Asia-Pacific, Partners Group, said that the project will have "a considerable impact on the future of renewable energy in Australia."
"The Ararat Wind Farm is a well-structured project with high-quality counterparties and a strong wind resource. The timing of our investment aligns with increased certainty around Australia's Renewable Energy Target, which will require a substantial build-out of renewables in the coming years. The wind farm will make a great contribution not only to the local community in Ararat, in the form of employment, education and investment, but also to the future of renewable energy in Australia."
"We are excited to participate in this project, working alongside trusted partners, to expand renewable energy production in Australia. We commend Parliament for reinforcing the regulatory stability that underpins this industry and look forward to starting construction," added Stan Kolenc, Managing Director, OPTrust.
Two weeks ago, Downer EDI announced that it had been awarded a $130 million contract for work on the Ararat wind farm.