Pratt & Whitney's additive manufacturing project manager Caitlin Oswald has been selected by Fast Company magazine as one of its "100 Most Creative People in Business" for 2015, the aerospace manufacturer announced last week.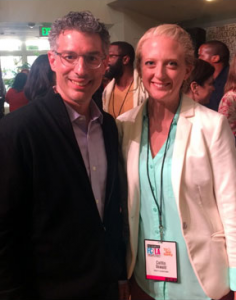 The prestigious recognition saw Ms Oswald join an elite international list of scientists, fashion designers, app developers, architects and others from manufacturing giants such as Nike, Evernote, IBM and Pepsico.
"Oswald was recognised for her work in additive manufacturing, or "3D printing," especially as it has been applied to Pratt & Whitney's PurePower® Geared Turbofan™ (GTF) engine platform," reads the press release by Pratt & Whitney.
Ms Oswald's efforts in developing the GTF engine platform have resulted in a significant reduction of the engine's CO2 emissions and fuel usage (approximately 16%), making the engine possibly the most sustainable jet engine ever built.
"She is credited with leading a team that incorporated additive manufacturing, specifically electron beam melting, through the development process and helping engineers approach challenges in a new way," it says in the press release.
Ms Oswald was presented with the award at the magazine's first ever "FC/LA" event in Los Angeles, California, where she was also treated to a tour of creative businesses around the city, special presentations and workshops, along with the other honourees.