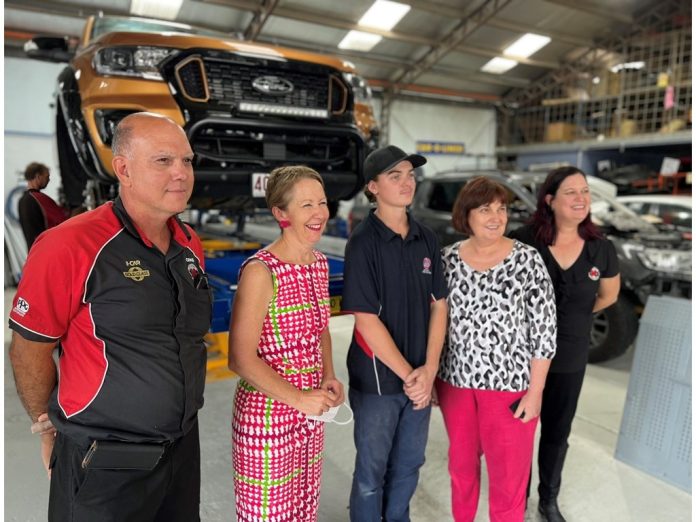 A Mackay-based panel beater McCarthy Panel Works will expand its facilities to include a section dedicated to electric and hybrid auto repairs thanks to a Queensland Government Business Growth Fund grant.
Making the announcement, Member for Mackay Julieanne Gilbert said the $50,000 grant will allow family-owned business to install specialised equipment at their O'Loughlin Street site.
"McCarthy Panel Works has been getting locals back on the road since 1971, and now, they're looking to the future," Ms Gilbert said.
"While their workshops back then might have been full of Falcons, Chargers and Kingswoods, we know in today's world, electric and hybrid cars are on the rise.
"This Business Growth Fund grant will help McCarthy's stay on the front foot of smash repairs so they can help anyone and everyone when accidents happen.
"A new chassis aligner, aluminium welders and riveting guns will accelerate growth opportunities and help them reach that next level."
Andrea and Craig McCarthy, owners and directors of the 51-year-old family business, said they are edging closer to their goal of "developing the next evolution in vehicle repair".
"The grant process made available to us really helped us to identify and focus in on the direction we wanted to go," Ms McCarthy said.
"It is really encouraging for us to know that others can see how passionate we are about what we do and the need to do it right.
"The Business Growth Fund grant project, which will see a dedicated-area for the repair of electric and hybrid vehicles, is expected to require more staff once it is up and running."
Image credit: https://statements.qld.gov.au/statements/94486