The world's largest company dedicated to industrial automation and information has won three prestigious awards at the 2015 Asian Manufacturing Awards Competition.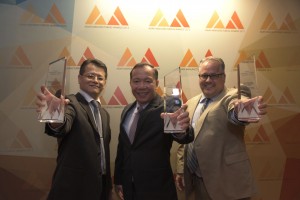 The Awards recognise excellence in control, instrumentation, and automation products and services across the region.
Rockwell Automation was named the Best Internet of Things (IoT) Provider, the Best Programmable Control Systems Provider, and the Best Machine Safety Systems Provider.
"Rockwell Automation has completed its journey to become a Connected Enterprise – deploying the same technologies it supplies to customers around the world, rigorously connecting manufacturing-execution systems to business-critical IT systems to share contextualised information seamlessly. The company is leveraging the proliferation of connected field devices, big data/analytics, cloud computing, virtualisation and mobility, so that its customers are more productive and the world is more sustainable," said Co Gia Nguyen, vice president and general manager, Asia Pacific Business Centre, Rockwell Automation.
This is the second time the company has been acknowledged as the best IoT Provider and the Best Programmable Control Systems Provider.
"Rockwell Automation is proud to be recognised as an innovative leader in industrial automation in Asia. Our programmable control systems – from low-cost, simple programming tools, to midrange solutions, to those adopted for large-scale and demanding applications – standardise on a single-control platform for efficient and secure plant wide optimisation. Our modular, scalable, multi-discipline programmable controllers manage motion, drive, process, batch, safety and discrete processes and yield system-wide real-time information availability, reduced system cost, improved productivity and maximised performance," said Steven Goh, business director, Asia Pacific Business Centre, Rockwell Automation.
The company also won the Best Machine Safety Systems Provider Award in recognition of its comprehensive portfolio of safety solutions.
"Rockwell Automation has unrivalled credentials for building safety into its company culture, technology, and manufacturing processes and procedures – resulting in higher Overall Equipment Effectiveness, less unscheduled downtime, and significantly fewer injuries. Moreover, to further emphasise our commitment to safety, we created the annual Manufacturing Safety Excellence Award in 2013 to celebrate the world's safest manufacturing companies," said John Bizjak, country manager, Singapore, Rockwell Automation.