Samsung Electronics Australia has unveiled Samsung Smart Signage TV for small business – a turn-key offering that includes a commercial display, content management software, a stand and a wall mount in one box.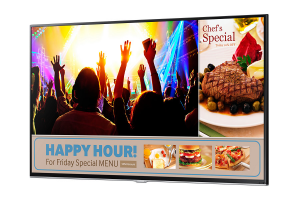 Combining the information and promotional benefits of digital signage and promotion with the entertainment value of a TV, the Samsung Smart Signage can divide the display screen into multiple sections and show a wide range of materials from promotional banners, menus, TV, video, images and text as well.
It is optimised for shop owners and small business' needs and follows an easy set-up procedure out-of-the-box. The embedded content management system makes it easy to create and schedule content remotely from compatible PC and mobile devices, via a local Wi-Fi network.
"With the new range of Samsung Smart Signage TVs, Australian businesses will have access to a digital display solution that easily delivers impactful and relevant information to their customers every day. The all-in-one package gives shop owners the ability to engage with their customers," said Todd Lynton, Director – Enterprise and Small Medium Business, Samsung Electronics Australia.
"Samsung Smart Signage TV has been designed to follow a very basic set up and works out-of-the-box without the need for an IT expert to install it. It's easy-to-use content management solution makes it ideal for local businesses to display professional-looking content to their customers that can be updated and managed via a compatible mobile device,"
According to the press release by Samsung Australia, the Smart Signage TV offers small shop owners enhanced dependability and commercial-grade operation. The business solution is designed for long periods of use over the standard work day, enabling businesses to display their promotional materials up to 16 hours a day, seven days a week – all the while delivering an outstanding viewing experience.
"From installation to promotion, Samsung Smart Signage TV is an easy-to-setup business solution that provides store owners with the ability to create, schedule and display business content. The all-in-one-box solution includes a LED TV with an embedded TV tuner and stand, content management software, full high-definition (1080p) screen resolution, embedded WiFi, a TV remote control, and VESA-compatible mounting accessories," reads the press release.
"The all-in-one TV and embedded media player helps eliminate the need for an additional audio and video device for storing or playing business content, providing simplicity and reducing costs for extra hardware. Using the advanced content creation and management software, content can be delivered to the embedded media player easily and conveniently via a USB or wirelessly from a WiFi-enabled mobile device. The TV also can be transformed into a powerful business tool by creating and displaying professional-looking content using more than 200 pre-built design templates and sample imagery."
Samsung Smart Signage TV is also equipped with MagicInfo Mobile, which allows businesses to make quick updates or upload photos to promotional materials from their compatible mobile device using a mobile App (Android™ or iOS).
The TV also features a built-in WiFi which helps reduce cable clutter and enables seamless connectivity with various compatible external devices, including router and network, PC and mobile, along with wireless content transferring.
For more information, visit www.samsung.com/au/smartsignagetv.