Leading oil and gas producer Santos has shipped the first cargo of liquefied natural gas from its $US18.5 billion GLNG venture.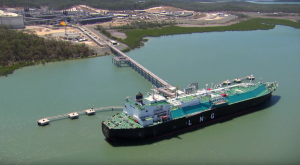 The first shipment – worth around $40 million – from the plant at Curtis Island is bound for South Korea.
Premier Annastacia Palaszczuk, Minister for State Development Dr Anthony Lynham and Member for Gladstone Glenn Butcher attended the special event to mark the first shipment.
"I'd like to congratulate David Knox and the team at Santos, including their joint venture partners and the thousands of workers that made this project a reality, on reaching this critical milestone. With long-term contracts locked in, this project will play a vital role in Queensland's economic strength for decades to come," the Premier said.
"With $7.9 billion invested with Queensland businesses, $200 million invested in roads, hospitals, schools and events and more than 10,000 people having worked on the project in Queensland, GLNG has delivered unprecedented opportunities to build long lasting benefits for regional communities. And moving into the operational phase will mean long-term jobs for Queenslanders for the next 20 to 30 years through GLNG investments upstream and ongoing maintenance operations. This is an exciting day for Santos and an exciting day for the Queensland economy."
The project comprises the development of several onshore coal bed methane fields in the Surat and Bowen basins, a 420 kilometre gas transmission pipeline and a two-train liquefaction plant on Curtis Island, near Gladstone.
The plant at Curtis Island will produce 7.2 million tons of LNG per year once at full capacity.
"Overall, Queensland's LNG industry is ramping up, having already exported $1.14 billion worth of gas from January to July. Exports are projected to hit $15 billion by 2016-17, earning the state valuable export dollars and annual royalties while supporting thousands of jobs," said Dr Lynham.
"By 2018, Queensland could be the world's fourth largest LNG exporter and, by the end of the decade, Australia has the potential to be the world's leading LNG exporter. The delivery of GLNG's project along with Queensland Curtis LNG and Australia Pacific LNG paves the way for Queensland to become a key player in the burgeoning Asian gas markets."
GLNG is a joint venture by PETRONAS, Malaysia, Total, France and KOGAS, South Korea.
Santos Managing Director and Chief Executive Officer David Knox said the announcement was "the culmination of a historic journey for Santos."
"This is the largest project we have ever undertaken as a company and I am so proud that we have been able to deliver this on time and within budget. Successfully delivering our first operated LNG project is a testament to our dedicated employees and contractors, the support we have received from governments, local communities, our customers and shareholders, as well as the strong relationships we enjoy with our joint venture partners," said Mr Knox.
"The first cargo from GLNG strengthens our position as a major and competitive LNG supplier to Asia. GLNG is a robust project and will generate strong cash flows for the business for decades to come."