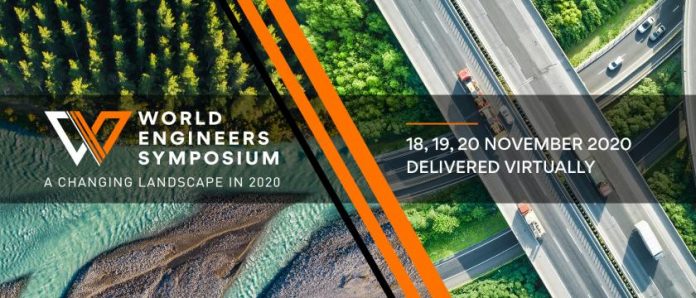 Engineers Australia, the largest and most diverse body of engineers in the country, has invited back international and national speakers from the 2019 World Engineers Convention (WEC) to discuss how the engineering landscape has altered, and what the future might have in store.
Delivered online, this year's World Engineers Symposium will see WEC 2019 speakers return to share their knowledge and new experiences gained over the past 12 months.
There will be six plenary sessions across the event, with experts discussing everything from climate smart engineering to the future of the office.
The event, which is aptly themed 'A changing landscape in 2020', is packed full of great engineering minds from Australia and overseas, such as Professor Carlo Ratti, Director of the Senseable City Lab at MIT and Founding Partner of Carlo Ratti Associati, and Matt Gough, Director of Innovation at MACE, the construction company behind structures such as The Shard and the London Eye.
The symposium, which will run from 18 to 20 November, also promises some informative panel discussions that are sure to spark conversations.
This includes 'Build Back Better' on 18 November, where CEO of the Green Building Council of Australia, Davina Rooney, will join CEO of Solar Victoria and co-Chair of Victoria's Building Recovery Taskforce Stan Krpan, and Peter Colacino, Chief of Policy and Research at Infrastructure Australia, to discuss the role of engineers in Australia's economic recovery following bushfires, floods and the pandemic.
This will be followed up by another topical discussion on 19 November featuring Tesla Industrial Engineer Meredith Westafer, Minderoo Foundation Data Ecosystem Lead John Sukkar, Swinburne University Director of Industry Partnerships Felicity Furey MIEAust and moderator Fifth Frame Partner Jon Williams.
The three panellists will examine how COVID-19 has disrupted the future of engineering— from individual education pathways and careers to organisational working patterns and national economies — and will discuss how engineers can continue to work together to contribute most effectively.
The event will consist of six two-hour sessions spread across three days, with each session including a plenary presentation and two technical speakers— one from the World Federation of Engineering Organizations, and one of the highest scoring abstract authors from WEC 2019.
Because the symposium is online, interested parties can join for a session, a day or as many of the 12 hours of content. For more information and to register, click here.
Image credit: https://www.engineersaustralia.org.au/