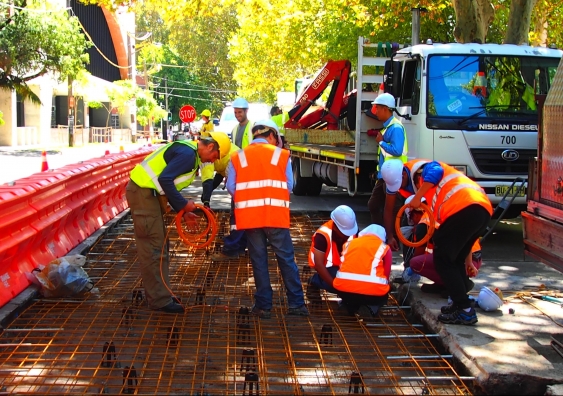 In a world-first roads trial in Sydney, UNSW Sydney researchers will monitor the road performance of a new geopolymer concrete made from industrial waste.
Made using industrial waste from coal-fired power stations and steel manufacturing, the new environmentally friendly building product will be put to the test on a busy inner-city street, replacing a 30 metre section of roadway on Wyndham Street in Alexandria.
UNSW Sydney researchers have positioned nine sensors under the concrete to monitor and compare how the geopolymer concrete performs.
Professor Stephen Foster, Head of the School of Civil and Environmental Engineering, said UNSW researchers will monitor the road performance for up to five years.
"This trial will help drive step change in the industry. Many concrete companies are already doing a lot to change, but this trial really gives it another push," Professor Foster said.
"Research into geopolymer has been undertaken since the '90s, but it's only now that it's starting to be commercialised.
The production of geopolymer, which is the main ingredient in this green concrete, generates just 300 kilograms of CO2 per tonne of cement, compared with the 900 kilograms from traditional cement production.
Professor Foster said the low-CO2 concrete has the potential to put the 400 million cubic tonnes of globally documented waste from the coal and steel industries to good use.
"Concrete contributes 7% of all greenhouse gas emissions and in 2018 the world produced about 4.1 billion tonnes of cement, which contributed about 3.5 billion tonnes of CO2," he continued.
"Alternative, low-CO2 concrete materials offer potential benefits in reducing the greenhouse gas emissions associated with conventional concrete.
"This trial is important because we need demonstration projects to accurately assess the performance of geopolymer over time so that there can be broader uptake."
Industry partner Craig Heidrich, executive director, Australian (Iron and Steel) Association and Ash Development Association, says the benefits of the trial could have far-reaching consequences.
"Our collaboration with organisations such as the City of Sydney and the publication of the research findings will further de-mystify and promote the use of geopolymer concrete in construction. Geopolymer concrete has great engineering properties. It is a durable, high performance product that has a low carbon footprint when used in construction," Mr Heidrich said.
"It's a fundamental tenet in business that you need to be constantly innovating and investing into new technologies. This trial will provide real examples of Geopolymer concrete use that we can all use."
Image credit: Image provided