Recently retired Tour de France winner and Siemens ambassador Cadel Evans will be a key speaker at Engineers Australia Convention 2014, the largest engineering event ever held in the southern hemisphere which aims to advance the engineering profession by providing an opportunity for professionals and industry leaders to share expertise, knowledge and innovations and to forge long-term partnerships through exclusive networking.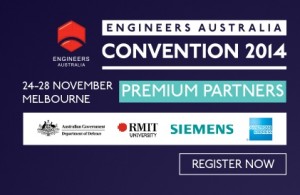 The 2011 Tour de France winner will be joined onstage by Siemens Australia CEO Jeff Connolly, discussing everything from his recent retirement to innovation in cycling.
Engineers Australia CEO Stephen Durkin said Cadel's attendance highlights that Convention 2014 is more than just an engineering event – it's an opportunity to hear from some of the world's most respected thought leaders on leadership and innovation.
"Convention 2014 is shaping up as the engineering event of the year and we are incredibly excited to have Cadel share insights from his own career and how science and engineering have influenced his sporting life," Mr Durkin said.
The event will take place on 24-28 November 2014 at the Melbourne Convention and Exhibition Centre.