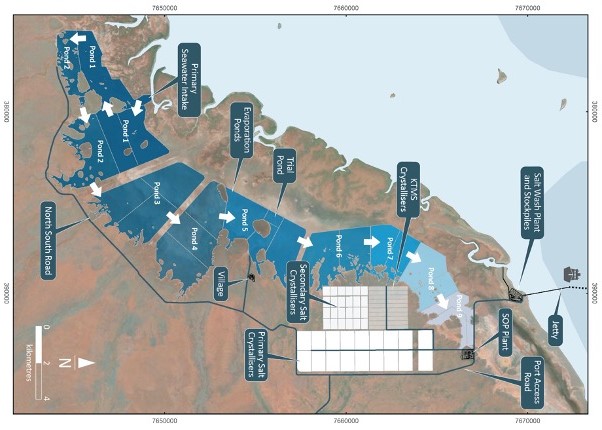 BCI Minerals has announced it has secured $740 million in funding for its Mardie Salt and Potash project.
According to the official ASX Announcement, the company applied for a $490 million in funding from the $5 billion Northern Australian Infrastructure Facility (NAIF).
"We are delighted to be able to increase our support to the Mardie Salt and Potash Project which continues NAIF's record of investing for positive economic impact in Northern Australia," said NAIF CEO Chris Wade.
Export Finance Australia (EFA) provided a $110 million loan for the project while further $140 million were provided by two leading commercial banks, Australian and International.
Located on the West Pilbara coast, the Mardie Salt and Potash Project aims to produce 5.35Mtpa of high-purity salt and 140ktpa of sulphate of potash (SOP) via solar evaporation of seawater. To be able to achieve this, the company will need around $1.2 billion in funding.
"Securing this landmark $740M project finance debt package represents a key milestone for the Mardie Salt and Potash Project and will underpin the pending consideration of the BC Board to progress Mardie to a final investment decision (FID)," said BCI Managing Director, Alwyn Vorster.
"The participation of government funders such as NAIF and EFA, together with the confidence demonstrated by the lead Commercial Banks in the technical, economic and green credentials of the project is a strong validation of Mardie's potential. BCI is now well positioned to achieve FID, raise the required new equity and subject to final approvals, commence main construction."