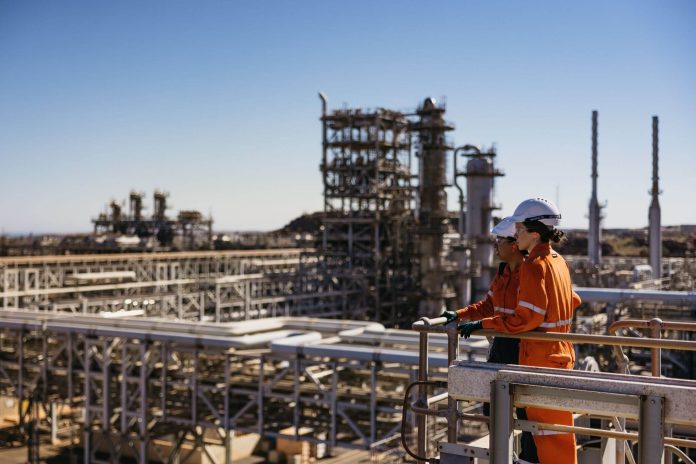 BHP Group and Woodside Petroleum have entered into a share sale agreement to merge their respective oil and gas portfolios, creating global top 10 independent energy company by production and the largest energy company listed on the ASX.
Woodside CEO Meg O'Neill said the combined company will have a high margin oil portfolio, long life LNG assets and the financial resilience to help supply the energy needed for global growth and development over the energy transition.
"Woodside and BHP's respective oil and gas portfolios and experienced teams are better together. The combination will deliver the increased scale, diversity and resilience to better navigate the energy transition," she said.
"We will have the balance sheet, cash flow and financial strength to help fund planned developments in the near-term, invest in future energy opportunities and return value to our shareholders through the cycle.
"Our emissions reduction targets will apply to the combined portfolio, supporting our aspiration to be net-zero by 2050 and our strategy to supply lower-carbon energy to our customers across the globe."
Further to the merger announcement, BHP and Woodside have also announced final investment decision of the Scarborough and Pluto Train 2 developments, including new domestic gas facilities and modifications to Pluto Train 1.
The $16 billion liquefied natural gas (LNG) development will see gas from the Scarborough resource processed at Woodside's Pluto LNG facility on the Burrup Peninsula, near Karratha.
Construction is scheduled to commence in 2022 and is expected to create 3,200 jobs. Once operational the project will support around 600 jobs.
Premier Mark McGowan said the development would deliver large volumes of gas into the Western Australian market, in support of the State's long-term energy needs and ongoing economic development.
"Today's announcement from Woodside and BHP that they have reached a positive final investment decision for the Scarborough and Pluto Train 2 projects is a boon for the State," the Premier said.
"My Government is committed to supporting projects that create more jobs for Western Australians.
"In the coming days, we will execute agreements with the Scarborough and Pluto Train 2 joint ventures that will provide energy certainty for the State and support thousands of local jobs, as well as providing a transition fuel source for our major trading partners."
Image credit: https://www.woodside.com.au/what-we-do/australian-growth-projects/scarborough