A major fire broke out at the factory of Viscount Plastics in Brisbane just after 3pm (AEST) on Sunday, causing about $500,000 worth of damage.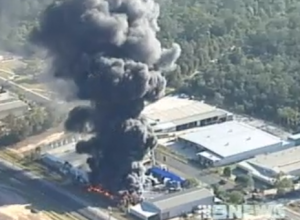 According to a report on ABC News, authorities are investigating the possibility that the fire in the Ipswich plant may have been deliberately lit.
Viscount Plastics is a manufacturer of rigid plastic containers, food packaging, and lubricant packaging.
Explosions were also reportedly heard at the site of the fire, with thick, black smoke soaring hundreds of metres into the air.
"There's very thick acrid plumes of smoke, but just when you think it might be dying down a little the plumes just come back up a little bit and into the sky towards Camira," local councillor Paul Tully shared on Sunday evening.
Residents were advised to close their doors and windows until the smoke had subsided.
Despite being unable to save neighbouring buildings, the nearly two dozen fire fighters who were sent from Ipswich, Brisbane and Logan City were able to bring the situation under control on Sunday night.
While they were able to contain the damage to half a million dollars, David Hermann, Acting Superintendent Inspector, Queensland Fire and Rescue told ABC News that more importantly the real success story is that Viscount Plastics' employees still have jobs when they return to the plant.