Victorian self-funded industrial electrical contractor Furst Electrical has won the Start-up Award at the 2015 Telstra Australian Business Awards.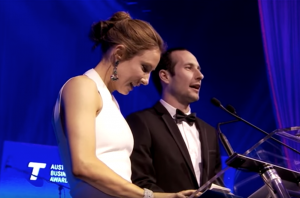 Established by siblings Lee and Mark Furst in 2012, the company designs, fabricates and installs electrical control systems for manufacturers and secondary processing industries.
Mark is an industrial electrician specialising in process control and automation and his sister Lee is an MBA with expertise in financial management and accounting.
The two have successfully combined their skills to create a company that has won major multi-million dollar contracts with local manufacturers including pharmaceutical, chemical, agriculture and food and beverage companies.
Furst Electrical, now based in Bayswater, employs 11 workers, including Lee and Mark's father Paul who, at 56 years of age, came out of retirement to become the company's first apprentice.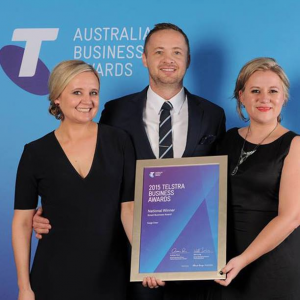 "The business has been successful due to our ability to deliver complex projects on time and on budget. We deliver everything we promise and ensure the technical specifications are bang on and our customers choose us for the skills we deliver," said Lee Furst.
Cargo Crew is another Victorian company that was recognised at the 2015 Telstra Australian Business Awards, winning the Small Business Award.
A contemporary uniform brand for hospitality, event, retail and corporate staff, Cargo Crew was formed by designer Felicity Rodgers with the view of disrupting the market by establishing a business that delivered fashion focused designs that staff wanted to wear.
She was soon joined by her husband Paul and advertising executive sister Narelle Craig, who helped develop the business beyond the mini flat in Clifton Hill to a facility in Brunswick East.
In 2012, the company launched an online store with denim apron designs, shipping more than 10,000 orders a year locally, with clients including L'Oreal, Tabcorp, Dulux and Renault.
Today, Cargo Crew has more than 35 products and has attracted interest from iconic UK department store, Selfridges.
"We set about to disrupt the uniform market by starting a new wave of uniform design that values authentic style and at the same time having an industry direct supply solution," said Ms Craig.
Will Irving, Telstra Business Group Managing Director and Telstra Business Awards Ambassador, said this year's winners have built highly disciplined businesses, leveraging specialised expertise with deep customer commitment to offer high quality products and services and enable them to expand into new sectors and markets.
"Judges praised the financial successes achieved by Furst Electrical in such a short time and its highly developed expertise, combined with sales, marketing and process discipline rare in its sector that will enable it to tap into enormous local and international demand in the years ahead. They are introducing innovation in very complex electrical engineering and highly technical areas including aircraft landing strips and industrial processes," he said.
"The judges were also impressed by the growth potential of Cargo Crew which has redefined the modern uniform. This concept is set to grow further as they expand into the casual professional category, dressing staff in organisations such as banks and car showrooms."