3DSimo has launched its second-generation 3D printing pen, the Simo Mini, which is a much smaller, smarter and less expensive version of its original 3D printing pen.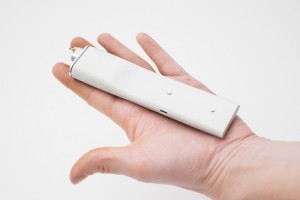 3DSimo launched the palm-sized Mini on Kickstarter as a 4 in1 maker tool that can 3D draw, solder, burn and cut.
The Mini also communicates via Bluetooth with a free downloadable smartphone APP, available both for iOS and Android users. The APP is used to control the functions, materials and temperature on the device. Users can draw with a variety of materials (1.75mm width strings) including: Laybrick, ABS, PLA, PETG, HIPS, FLEXI, Laywood, Thermochrome, and Flourescent.
"We created the 3DSimo Mini to be the ultimate creator's tool," said David Paskevic, CEO of 3DSimo.
"It is more than a 3D printing pen. Immediate uses include extensions for burning, foam cutting and soldering. In the future, we will incorporate additional functionality to the pen such as like drilling, making it a practical tool for creators of any skill set. The Mini is a tool that can be used for all creative projects."
According to the official news release, the basic 3DSimo Mini will come with a micro-USB cable to wall charger, 3D printing nozzle and material. The creators also developed a clip-on battery pack, which is able to power 3Dsimo Mini for one hour or charge a phone with its 2000 mAh battery.
The 3DSimo Mini is available now on Kickstarter, starting at an early bird price of $89 for the basic model.
To view the Kickstarter campaign, please go to http://bit.ly/3DSimoMini