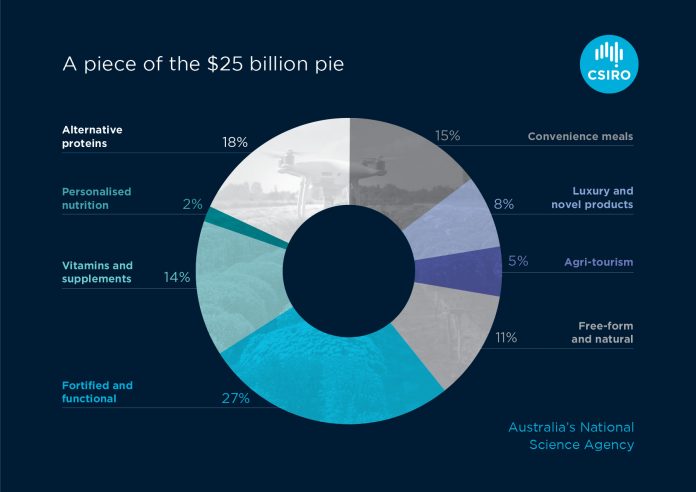 CSIRO's strategic advisory arm, CSIRO Futures, has released a new report at the 'Global Table' event in Melbourne which predicts that plant-based protein, foods for health and wellbeing, premium products and other emerging food trends could be worth $25 billion by 2030.
The report provides a detailed economic valuation of the full range of opportunities identified in the 2017 CSIRO Food and Agribusiness Roadmap, stating that if Australia harnessed these opportunities, the food and agribusiness sector could successfully become a growth orientated, de-commoditised, value-adding and differentiated sector.
Senior Economic Advisor at CSIRO Futures, Dr Katherine Wynn, said achieving this growth would depend on continued innovation and investment by all players in the food industry.
"As consumer demand for healthy foods and foods with added health benefits increases, foods such as enriched yoghurt and fortified breakfast cereals are likely to claim a larger chunk of the $25 billion pie," Dr Wynn said.
The report notes that this growth is driven by 'global consumer trends for sustainable, ethical and healthy food products' combined with growing demand from export markets buying into Australia's reputation for clean and green products.
It says the health and wellness, sustainable solutions, and premium segments will see higher growth (3.6% per annum, in real terms) compared to the food and agribusiness industry as a whole (2.4% per annum).
"The goal to grow our share of emerging food markets complements the National Farmers' Federation strategic target to reach $100 billion by 2030, with a growth rate of approximately 4 per cent per annum expected in farm gate output," reads the report.
"Key opportunities fuelling this growth include the meat alternatives market – such as plant proteins and insect-based ingredients – as well as demand from export markets with large vegetarian populations such as India. The meat alternatives market also has the potential to reduce greenhouse gas emissions and water use."
The report also found that consumers 'are more willing to pay a premium for sustainable brands which could see greater economic as well as environmental benefits'.
Image credit: https://www.csiro.au