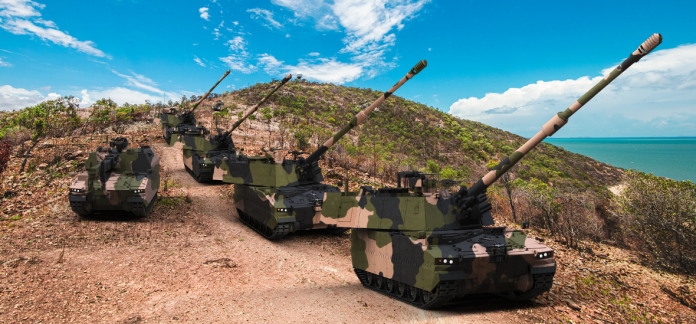 Construction has commenced on the Armoured Vehicle Centre of Excellence at Avalon, near Geelong, marking a significant milestone for the Federal Government's more than $1 billion defence contract for new self-propelled howitzers for the Australian Army.
The Armoured Vehicle Centre of Excellence, which will develop self-propelled howitzers and armoured ammunition resupply trucks, was officially launched yesterday by Prime Minister Scott Morrison, who said the project would create more than 300 jobs during its lifetime.
"With the turn of the sod today at Avalon we are keeping our promise, securing Geelong's rightful place in our country's advanced manufacturing and defence industry, creating skilled jobs and delivering huge economic benefits for the region," the Prime Minister said.
"As construction ramps up it will create up to 100 jobs, and once this cutting edge facility is up and running around 300 locals will be employed at the site.
"Importantly, several local businesses will be engaged along the way to help deliver this critical $1 billion defence project. This includes an Australian-owned Victorian-based construction company that will build this $170 million facility with completion by 2024."
The turning of the sod comes after Hanwha Defence Australia was given a $1 billion defence contract in December last year for the new self-propelled howitzers.
The LAND 8116 Phase 1 project, based in Greater Geelong, will procure self-propelled howitzers and armoured ammunition resupply trucks.
Hanwha will produce 30 self-propelled cannons and 15 armored ammunition resupply trucks, which will be utilized to replace artillery shell supplies during operations.
Melissa Price, Australia's Minister for Military Industry, said the $1 billion contract reaffirmed the Government's commitment to supporting employment in the country's burgeoning defence industry.
This project will create hundreds of jobs, with more than 90 per cent of vehicle sustainment to be completed in Australia," Minister Price said.
"The opportunities for our defence industry are significant and will benefit local companies until the late 2040s.
"The self-propelled howitzers are just the latest step in the Morrison Government's 10-year plan to invest $270 billion to increase Defence capability, not only securing the defence of our nation but bringing enormous benefits to our defence industry."
Image credit: https://www.hanwhadefense-intl.com/Australia/services/l8116