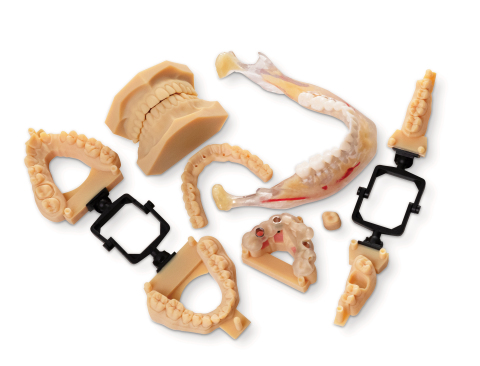 3D printing giant Stratasys has introduced a new 3D printer 'that gives dental labs 3D printing efficiency paired with PolyJet's realism and precision'.
Stratasys said the J5 DentaJet 3D printer is the only multi-material dental 3D printer, enabling technicians to load mixed trays of dental parts.
According to the company, the new 3D printer can produce at least five times more dental parts on a single mixed tray than competitive 3D printers while consuming just 43m2 of floor space.
Stratasys' Healthcare Vice President Osnat Philipp, said the multicolour, multi-material J5 DentaJet also produces 3D-printed case presentations with realism previously only possible using time-consuming wax models.
He said the printer is launching with a full range of biocompatible resins tailored to meet the needs of the dental industry, including a clear resin, VeroGlaze opaque white for temporary in-mouth placement, and a clear and flexible resin. Other available resins include VeroDent PureWhite, and CMY resins for colour.
"The J5 DentaJet advances the full digital transformation of dental modelling with the potent combination of automation with accuracy," Mr Philipp continued.
"The system runs largely unattended, and you can even produce a build tray with a wide variety of different models using several different materials. It's a productivity monster."
Image credit: https://investors.stratasys.com/