Global leader in lightweight metals engineering and manufacturing Alcoa last week celebrated the start of construction of its new $100 million aerospace expansion in La Porte, Indiana, that will produce nickel-based structural components for the best-selling jet engines in the industry by using the latest in advanced manufacturing technologies like digital x-ray, 3D printing and robotics.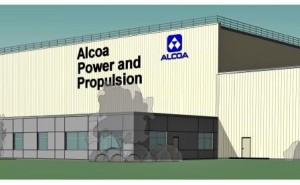 According to the news release by Alcoa, the new 320,000-square-foot state-of-the-art facility will create 329 new jobs by 2019. Construction is currently underway and the plant is set to be completed by the fourth quarter of 2015.
"Aerospace growth is soaring and Alcoa is ramping up our downstream capabilities to capture that demand," said Alcoa Chairman and CEO Klaus Kleinfeld.
"Applying our industry-leading expertise, this facility will deliver highly engineered parts our customers need to build some of the best-selling engines and at high volumes."
With this expansion, Alcoa will increase its capacity to supply engines for narrow-body aircraft and produce parts nearly 60% larger than the ones it makes today, expanding its market reach to wide-body air planes.
"Hoosiers are expert builders, constructing air plane components and lifting our Indiana economy," said Indiana Governor Mike Pence.
"Indiana-manufactured goods serve industries in all corners of the world, reaching new heights in business and, for Alcoa, in the skies. With the Hoosier State's commitment to creating a business-friendly environment, companies are able to find the resources they need to soar in Indiana, a state that works for business."
Aside from Governor Pence, La Porte Mayor Blair Milo and other state and local dignitaries joined Alcoa executives, employees and community members to celebrate the expansion of the company that already employs nearly 3200 people at three operating locations in the state of Indiana.
"The City of La Porte is proud to celebrate this momentous occasion with the Alcoa Team," said La Porte Mayor Blair Milo.
"Over the years, La Porte and Alcoa have developed a strong partnership due to Alcoa's industry-leading status as well as its leadership role within our community. We are excited to grow that partnership in lock step as Alcoa continues to enjoy growth and success."
The Indiana Economic Development Corporation has offered Alcoa up to $4 million in conditional tax credits based on the Company's job creation plans, while the city of La Porte has approved tax incentives worth $7.1 million over a 10-year period.
Alcoa's aluminium lithium facility, that was announced in 2012, at its Lafayette operations is set to open later this year and begin production of more than 20,000 metric tons of Alcoa's patented aluminium-lithium alloys used to build dramatically lighter and lower-cost airplanes versus composite alternatives.