The Australian Made Campaign would like to remind all Australians to show their support for Australian made products during the Australia Day long weekend.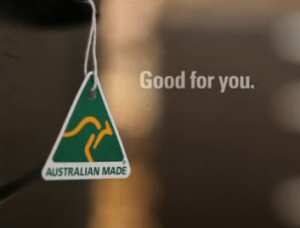 The not-for-profit campaign is encouraging all consumers to "take the Australian Made challenge" and look for the green-and-gold kangaroo logo when shopping.
There are over 2,000 businesses that are registered to use the Australian Made, Australian Grown logo on approximately 15,000 products.
"These times of year consumers are particularly conscious of supporting local farmers and manufacturers, but just because a product sports a map or flag – even if that product is a map or flag – doesn't mean it has been made or grown here. We encourage consumers to look more closely at the products they are purchasing, and make Australia Day a starting point for new buying behaviours – 'take the Australian Made challenge'," Australian Made Campaign Chief Executive, Ian Harrison warns.
"Most products – and all food products – carry a country-of-origin label, and sometimes it's just about getting in the habit of looking for it. We think consumers can have fun with this challenge, and might even discover a new family favourite for future purchases in the process. If every Australian replaced one item in their weekly shop with a locally made or grown alternative, we would see a tangible improvement to living standards across the country – for the benefit of all."
Mr Harrison has a few tips for buying local this weekend. Here they are:
Look for the logo when shopping in-store and online;
Read the fine print in the absence of a logo – look for the words "Australian Made" "Australian Grown" or "Australian Seafood";
Browse through the online product directory at www.australianmade.com.au;
Be wary of colourful packaging, maps, flags and Aussie animals, which can be designed to mislead.
"We encourage consumers to 'take the Australia Made challenge' and enjoy great Aussie products and produce from our farmers and manufacturers this Australia Day long weekend," Mr Harrison said.
For more information, please go to www.australianmade.com