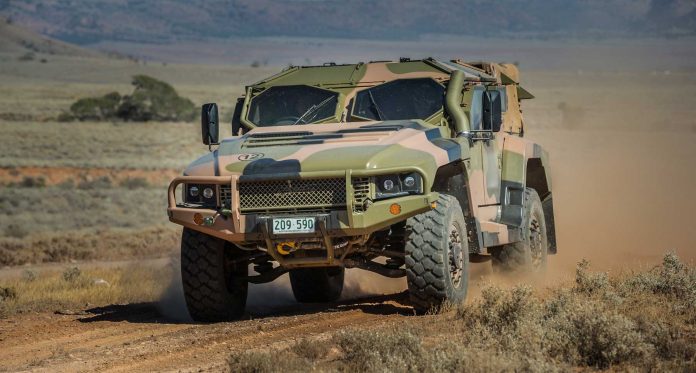 The Bisalloy Steel Group has commenced the supply of its armour grade steel for the Hawkei protected mobility vehicles which will replace the Australian army's aging fleet of Land Rovers.
The steel will be utilised for the manufacture of armour for 1,100 Hawkeis which will be used by the ADF for command, liaison, utility and reconnaissance purposes.
The 7-tonne vehicles are being manufactured by Thales, with first material deliveries already completed by Bisalloy.
Bisalloy Steel Group CEO and Managing Director, Greg Albert, said the company's BISALLOY Armour steel has become a leading product for defence applications in Australia and abroad, having been used for each of the 1100 Bushmaster Infantry Mobility Vehicles produced to date in the country.
"For 25 years, the Bisalloy story has been one of working in partnership with Australian steel producers, defence scientists and engineers, international organisations and manufacturers of military vessels and vehicles to produce what we believe are some of the best armour plate products in the world," Mr Albert said.
"As an Australian manufacturer of world class defence grade steel, Bisalloy is proud to be partnering again with a globally recognised companies like Plasan and Thales on such an important project. We look forward to our continuing long-term relationship."
Thales Australia CEO Chris Jenkins said the company was looking forward to working with Bisalloy.
"We are proud to have been chosen to deliver the Hawkei to the Australian Defence Force," Mr Jenkins stated.
"We also thank our suppliers on the program, companies such as Bisalloy that have been with us on this journey, and have contributed to its success. The Hawkei is an Australian industry success story."
Bisalloy, which has been around for nearly four decades, is Australia's only manufacturer of high strength and high hardness quenched and tempered steel plate used for armour, structural, protection and wear resistant applications.
The company's Business Manager – Armour, Justin Suwart, said the Hawkei vehicle was an example of what can be achieved by Australian manufacturers working closely with the ADF.
"Using Bisalloy's armour grade steels, the Hawkei will provide a high level of protection against blast and ballistic threats, with significantly improved mobility," Mr Suwart added.
"The Hawkei is yet another example of where Bisalloy represents the high quality of Australian manufacturing and products on the world stage – this vehicle showcases the high quality Australian-made armour steel Bisalloy produces."