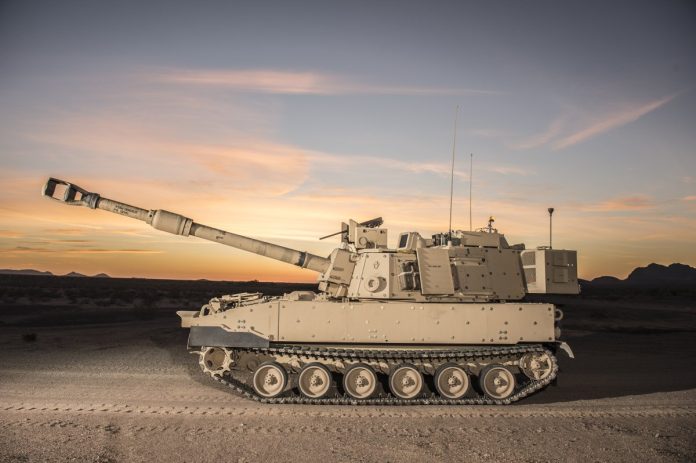 BAE Systems has won a contract from the US Army to build the full-rate production version of its M109A7 Self-Propelled Howitzer and M992A3 ammunition carrier vehicles.
The contract, which is expected to be completed by 2022, will see BAE produce a total of 48 howitzers and 48 ammunition carriers for $413.7 million. It also includes options, which, if exercised, would bring the cumulative value of the award to approximately $1.7 billion.
"BAE Systems will initially produce 48 vehicle sets, with the options calling for 60 sets per year for approximately three years of deliveries thereafter during full-rate production," the company said in a statement.
"The M109A7 consists of a new chassis design for improved performance, upgraded survivability, and components common to other Army vehicles, as well as additional key features."
The M109A7 is the successor to the M109A6 Paladin Self-Propelled Howitzer. It uses the existing main armament and cab structure of its predecessor, but replaces the vehicle's chassis structure with a new design that increases survivability and allows for the integration of drive-train and suspension components common to the Bradley Infantry Fighting Vehicle.
It also leverages technologies from previous design programs, such as a 600-volt on-board power generation, distribution, and management system, coupled with a high-voltage electric gun drive and projectile ramming systems.
Adam Zarfoss, the company's vice president and general manager of combat vehicles in the US, said the upgrades ensure commonality with the existing systems in the Army's Armored Brigade Combat Team, including the BAE Systems-built Bradley Fighting Vehicle and the new Armored Multi-Purpose Vehicle family.
"We have been working with the Army to design, develop, build, and test this vehicle for several years," Mr Zarfoss said.
"By working closely with our customer, we were able to design a vehicle that meets the needs of the current forces, and provides the system infrastructure and electrical power generation that leaves ample room to incorporate future capabilities."