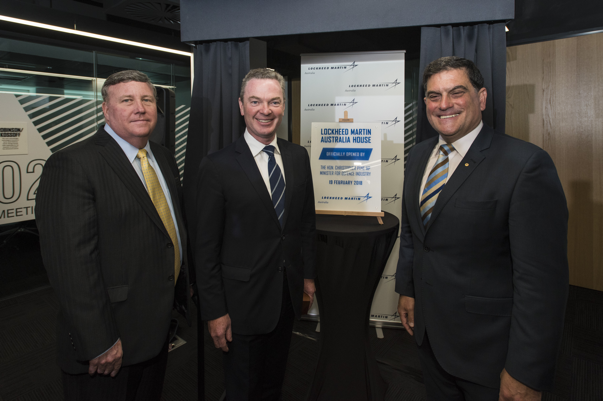 Lockheed Martin Australia has officially opened of its new Australian corporate headquarters in Canberra.
Located on the edge of Canberra's Parliamentary Triangle, the Lockheed Martin Australia House is now home to the company's local corporate and business development functions, representing a further $12 million investment in Australia.
The building also houses the state-of-the-art Lockheed Martin Endeavour Centre – a purpose-built facility designed specifically to enhance opportunities for exploration and innovation with key partners.
Rick Edwards, Executive Vice President, Lockheed Martin International said the move was a testament to the company's unwavering commitment to Australia.
"For more than 70 years, Lockheed Martin has invested in Australia, building long-term capability through our defence, innovation, space and technology programs," he said.
"This building is symbolic of our continued commitment and enduring aspiration to be Australia's partner of choice for defence, aerospace, sustainment and technology solutions, as well as a valued and contributing member of the broader Australian community."
Lockheed Martin Australia Chief Executive, Vince Di Pietro AM, CSC said the facility had been designed to enhance the experience for partners to engage, explore, test, conceptualise and problem solve through innovation and enterprise.
"The jewel in the crown of Lockheed Martin Australia House is the Endeavour Centre – purpose designed for customers, industry and academia to embark on partnerships of discovery and overcome any issues together," he said.
"By harnessing the power of partnership, the Lockheed Martin Australia Endeavour Centre will play a key role in the pursuit of Australia's future national security challenges and facilitate the development of sovereign capability."
"It is in this spirit of partnership that Lockheed Martin advanced technologies were selected to form the backbone of Australia's current and future defence capabilities, including Next Generation Pilot Training, Combat Systems Integration, Rotary Wing Systems and Sustainment, 5th Generation Air Combat Capability and Over the Horizon Radar Capability & Surveillance across air, sea, land and space", he concluded.