Canberra-based Rheinmetall Defence Australia will be offering the ARTEC Boxer 8×8 multirole armoured vehicle for the LAND 400 project and has selected Supacat Australia as the first Australian company to support its bid.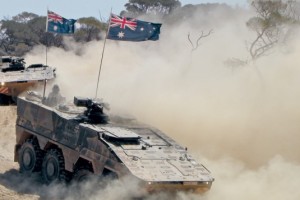 "We are delighted to be working with Rheinmetall Defence and offering a local perspective on testing, qualifying and modifying vehicles for the Australian users. For our own products, we partner with a number of Australian SMEs who deliver outstanding capabilities in their own right and we look forward to bringing these capabilities into the LAND 400 program," said Michael Halloran, Managing Director of Supacat in Australia.
The $10 billion Land 400 will replace about 1,100 of the army's ageing fleets of ASLAV light armoured vehicles and M113AS4 armoured personnel carriers with the CRVs (Phase 2) and infantry fighting vehicles (Phase 3) backed by manoeuvre support vehicles.
"Delivering the best possible protection to Australian armed forces – in line with the demanding protection specifications – is a non-negotiable objective for our LAND 400 team. Rheinmetall's combat proven BOXER 8×8 CRV delivers the highest levels of protection required under LAND 400 and is a formidable MOTS platform when combined with the in-service LANCE Turret," said Andrew Fletcher, Managing Director of Rheinmetall Defence Australia.
"Our LAND 400 industry engagement activities have been well received and our European executives have identified a number of Australian suppliers who we are currently in negotiations with to enter our global supply chain for LAND 400 and other international programs. We look forward to working with Australian industry to provide the best capability for the Australian Defence Force on the LAND 400 program."
The Boxer – a joint development of Rheinmetall and KMW – is equipped with the in-service Lance 30 mm turret and a fifth-generation Northrop Grumman command, control, communications, computers, intelligence, surveillance and reconnaissance (C4ISR) architecture.
"Northrop Grumman will leverage its extensive experience to offer a fifth-generation C4ISR solution that will significantly reduce crew workload, improve situational awareness and enable interoperability across the Australian Defence Force and with coalition forces. Our solution will provide an enduring platform ready for enhancements with future sensors and communications systems. Together, Northrop Grumman and Rheinmetall will also extend an impressive and lasting package of work for Australian industry," said Ian Irving, Chief Executive of Northrop Grumman Australia.