The RSTechED 14th annual event is scheduled to inspire and educate participants in Australia and New Zealand, bringing together diverse personnel from organisations, including control engineers, manufacturing IT, plant, operations and maintenance managers.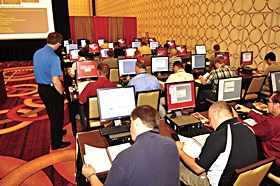 Rockwell Automation is the world's largest company dedicated to industrial automation. The company's flagship Allen-Bradley® and Rockwell Software® product brands are recognized for innovation and excellence.
According to RSTechED's media release, the event in Australia is scheduled to take place from 25-27 February 2014 at the Gold Coast Convention and Exhibition Centre and the event in New Zealand will be held at the Waipuna Conference Suites Highbrook in Auckland from 4-5 March 2014.
"A key focus of RSTechED 2014 will be to provide participants with a greater understanding of the information revolution, and how the latest Rockwell Automation products and solutions can assist organisations to establish an integrated enterprise system," said Lucas Maw, Commercial Marketing Engineer at Rockwell Automation.
"The benefits of connecting the business and IT areas of an organisation to the plant floor are infinite — our solutions create working environments that are smarter, more productive and more secure," said Mr Maw.
Participants will have the unique opportunity to use the latest technology and see what it can do for them in their specific applications. Lab sessions for hands-on product demonstrations will be held at both events.
Industry experts are scheduled to attend and speak about best practice and see how technology can be applied to solve many common challenges and issues in the fields of manufacturing and production.
Companies that want to increase productivity, reduce operating costs and improve quality need to incorporate advanced software technology and RSTechED delivers the industry's only multi-day event offering unique ways of learning, exploring and discovering techniques for creating innovating, high-performance manufacturing and production applications.
For more information and registration for RSTechED Gold Coast, visit
http://au.rockwellautomation.com/applications/gs/AP/GSAU.nsf/pages/RSTechED_-_Gold_Coast
For more information and registration for RSTechED Auckland, visit
http://nz.rockwellautomation.com/applications/gs/AP/GSNZ.nsf/pages/RSTechED_-_Auckland_New_Zealand