Welcome to the Feature Series for Australian Manufacturing, where each month we'll shine the focus on one particular Australian manufacturer and breakdown what really gives them the competitive advantage, in an otherwise difficult sector.
We dedicate this month to Tomcar Australia, the world-renowned manufacturer of the premium all-terrain Tomcar vehicle.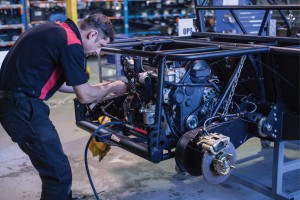 The Tomcar is the result of nearly three decades of engineering excellence. Hand-made in Melbourne, Australia, the Tomcar is the embodiment of design and quality — a product that has numerous applications in various industries, from mining and agribusiness to recreation and military.
This week, we take a closer look at how technology is implemented by the company and how the company relies on technology to design the best off-road vehicle on the market.
Tomcar Australia sees itself as "a technology company that happens to make cars." Technology is core to everything they do. Cloud-based systems allow the company to compete with global companies — only a few years ago something like this would have been impossible.
Tomcar Australia uses online computing systems that have dramatically reduced the cost of IT and allow them to run a global automotive company with only a handful of highly skilled people.
The Tomcar vehicle is designed and engineered to be remarkable, unique and revolutionary, and the IT systems that support it are too.
The company uses simple mechanical designs and reliable and simple technologies that result in a vehicle that is simple to fix and maintain. The user has unparalleled access to each and every part of the vehicle.
Technology is what guarantees quality of manufacturing, top-notch performance, safety, reliability and ease of maintenance.
"Most people think only tech companies can have less than 10 employees. We've proven that it is an 'attitude' not an industry type that allows a 'lean' approach. We've taken a tech startup approach into the auto sector," CEO and Co-Founder David Brim states.