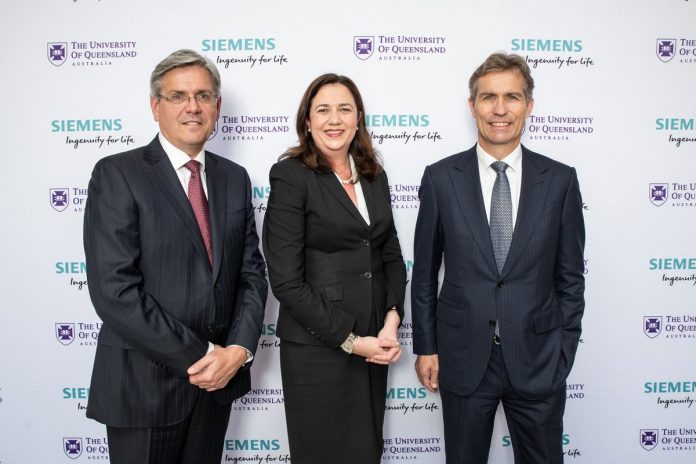 University of Queensland students and researchers will have the opportunity to further advance their skills in digital and data driven industries thanks to a more than $500 million software grant from Siemens.
The grant, which is linked to the recommendations and work of the Industry 4.0 Advanced Manufacturing Forum, was announced at the University's St Lucia campus on Monday in the presence of UQ Vice-Chancellor and President Professor Peter Høj, Siemens Australia Chairman and CEO Jeff Connolly and Queensland Premier Annastacia Palaszczuk.
Professor Høj said the grant includes licences for Product Lifecycle Management (PLM) software platform, which digitally tracks a product's life from its design inception through to manufacture, use, maintenance and disposal.
"This grant gives our students and researchers access to advanced software used by leaders in the automotive, aerospace, shipbuilding and electronics sectors," Professor Høj said.
"With PLM software, a 'product' can be quite broadly defined, which means this software will benefit students across many disciplines.
"A civil engineering project team will be able to test city traffic flows and use artificial intelligence to adjust the model in response to new scenarios, while physiotherapy students could use design and simulation tools to develop rehabilitation programs to optimise patient recovery."
Mr Connolly said the grant is part of Siemens' commitment of more than $1 billion in advanced software grants to select universities nationally.
"This grant reiterates our commitment to continued technology partnership with the State and supports the Queensland Government's Advance Queensland agenda," he continued.
"Put simply, for Australia to take advantage of the opportunities that come with the fourth industrial revolution, we need to build a future workforce now, with the skills to participate – and that's exactly what this grant is about.
"Partnerships such as this are critical to giving students exposure to digital technologies used by leading companies globally."