Victorian Premier Denis Napthine was joined by Minister for Higher Education and Skills Nick Wakeling in Prahran to announce the latest instalment in the Victorian Coalition Government's plan to provide greater choice and more opportunities for training.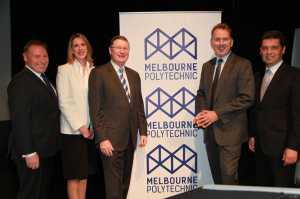 The Napthine Government is investing $19 million in the Northern Melbourne Institute of TAFE (NMIT) so the institute can implement a new strategic growth plan that will enable it to boost the job ready training opportunities for students and allow them to secure a rewarding career.
Dr Napthine said the new Melbourne Polytechnic will be an innovative and industry focused model of training for jobs of the future.
"This $19 million investment once again demonstrates the Government's commitment to providing better training opportunities for all students no matter their age or interests," Dr Napthine said.
"Victoria's industry focused training system is supporting more training in occupations that are forecast to deliver jobs growth. I am proud to say that 72% of training is now being undertaken in areas of skills shortage and value to the economy."
Mr Wakeling hailed Victoria's funded training system as the best in the country and said the state had the highest participation rate in training, with 16.1% of working age Victorians participating in vocational training last year.
"This $19 million investment is in addition to the Government's annual $1.2 billion commitment to training in Victoria, and will enable Melbourne Polytechnic and institutes like it to better compete in the open market that was introduced by Labor in 2008," Mr Wakeling said.
Mr Wakeling also took a swipe at Labor for failing to support NMIT and other similar institutions to adapt to the changes imposed on them.
"The fact is the former Brumby Labor government at the direction of the then Skills Minister Jacinta Allan called for reform and then botched the introduction of an open market. As a result of Labor's policy, NMIT went from being the principle provider of training in its catchment area to having 187 competitors," Mr Wakeling said.
"Unlike Labor, the Napthine Coalition Government is actively supporting TAFEs by investing $200 million to help transform their operations and adjust to the market driven system introduced by Labor. There is also 23% more funding being delivered to TAFEs than there was in 2010."