AiGroup has released its latest manufacturing PMI report which revealed that activity levels across Australia's manufacturing sector have expanded for a fifth consecutive month.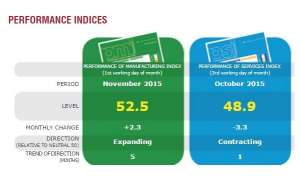 According to the November PMI report, Australia's manufacturing sector continued to expand last month and at a faster pace, with an index score of 52.5, which is a significant increase from the 50.2 recorded in October.
"Improvements in sales, exports, production, new orders and employment underwrote another stronger manufacturing performance in November. The more positive conditions are due to the more competitive level of the Australian dollar; the considerable cost savings and other efficiencies that manufacturers have introduced over recent years; and continuing strong demand from residential construction businesses," said Ai Group Chief Executive, Innes Willox, in a media release.
"However, areas of weakness remain most notably in the important metals and machinery & equipment sub-sectors, which continue to feel pressures from tough global market conditions and the weakening in Australia of mining investment and automotive assembly."
According to AiGroup's report, five of the eight manufacturing sub-sectors expanded: wood & paper products (up 3.2 points to 67.2); textiles, clothing, footwear, furniture & other (down 4.9 points to 52.0); petroleum, coal, chemical & rubber products (down 0.1 point to 57.4); non-metallic mineral products (up 5.4 points to 58.0); and food & beverages (up 2.7 points to 52.4).
The machinery and equipment (down 1.9 points to 43.1), metal products (up 0.9 points to 49.0), and very small printing & recorded media (up 1.0 point to 47.6) sub-sectors all remained in contraction.
Manufacturing production expanded for a fifth month (up 2.6 points to 53.0), while manufacturing employment expanded in November (up 2.4 points to 51.7) after a "brief and mild decline" in October.