Australian biopharmaceutical company Immuron Limited has announced that it has secured first orders for its Travelan® product in the USA.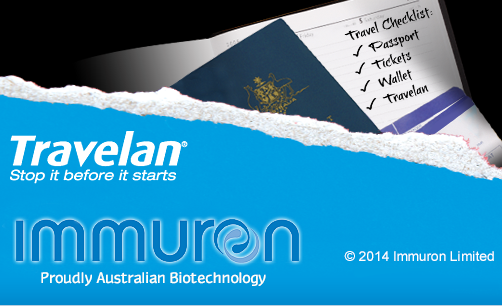 The order was from the largest US travel medicine chain which provides travel medicine services in its 240 clinics nationwide.
Immuron CEO Dr Leearne Hinch said travel clinics were an important channel for selling Travelan, as clinician recommendation of the product to people travelling to high risk destinations helped build brand awareness and consumer acceptance.
"Launching Travelan® in the USA is an important commercial milestone for the company, as we focus on growing Travelan revenues globally," Dr Hinch said, adding that the volume of initial US orders from travel clinics was higher than anticipated.
"The USA represents a significant market opportunity, and we are delighted by this initial success and the level of support and enthusiasm shown by travel clinics for Travelan®."
Travelan® is marketed as a dietary supplement in the US, and can be sold through pharmacists, drug stores and general stores. The company has implemented a direct sales model through niche retail and online channels to take advantage of the higher product margins realisable.
To drive the US launch and fully exploit the commercial potential of the US market, Immuron is also engaging with potential (nonexclusive) distribution partners for the large volume pharmacist and drug store channels.
The company has appointed Mr Travis Robins as Director of US Sales, responsible for managing sales of Immuron's products in the USA, and for engaging with distributors and wholesalers to provide technical product support to US customers.
Travelan® is now available for sale in Australia, Canada and the USA, and is undergoing regulatory approval in China.