The implementing legislation for the China – Australia Free Trade Agreement, also known as ChAFTA, passed the Senate, placing Australian businesses a step closer to huge opportunities.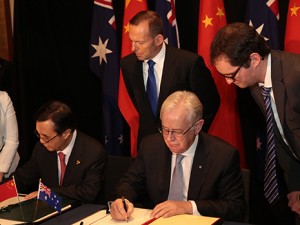 After ten years in the making, Australia's Trade Minister, Andrew Robb, and China's Commerce Minister, Gao Hucheng signed the landmark bilateral Free Trade Agreement five months ago in Canberra.
ChAFTA is set to increase market access for Australian beef and wine exporters while boosting Chinese carmakers and electronics producers who wish to sell their goods to Australians.
On day one of the ChAFTA, more than 85 per cent of Australian goods exports will be tariff free, rising to 95 per cent on full implementation.
"The Government has worked hard to ensure this high-quality agreement with our biggest trading partner enters into force before the end of the year, and today's vote marks a significant milestone in that process," Mr Robb said.
"Entry into force this year will see an immediate round of tariff cuts, followed by a second round of cuts on 1 January 2016, allowing the benefits of the agreement with China to flow quickly through to Australian exporters and consumers."
Under the terms of the Agreement, tariffs will be eliminated on a wide range of Australian manufactured goods, including pharmaceutical products and car engines.
Tariffs will also be removed on almost all Australian resources and energy products, including the 8 per cent tariff on aluminium oxide on the first day of the Agreement, benefitting Australia's exports worth around $1.3 billion a year. The tariffs on coking coal will be removed on day one, with the tariff on thermal coal being phased out over two years.
"The agreement will enter into force when Australia and China have both completed their domestic treaty-making processes, and we're working with China for this to happen as soon as possible. Together with the Trans-Pacific Partnership Agreement, the trade agreements with Asia form a key plank of the Government's strategy to promote jobs, growth and innovation in this critical post-mining boom period," Minister Robb said.
"The powerful trifecta of Asian agreements accounts for over 62 per cent of Australia's export market and provide Australian businesses with access to more than 1.5 billion people, opening up endless opportunities across goods, services and investment."
Although greatly criticised by some, ChAFTA is set to deliver a $20 billion boost to trade by 2035.