South Australian Premier Jay Weatherill says Steven Marshall is "selling people out" after the Opposition leader talked about sending manufacturing jobs offshore.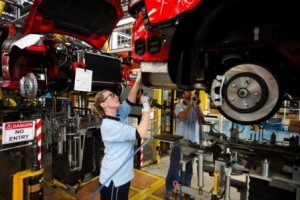 In an interview during his trip to Malaysia and Indonesia, Mr. Marshall was quoted as saying "I think that we'll be taking in many areas in terms of manufacturing, keeping the high end parts of it, the R & D and design in Australia but actually getting the manufacturing done overseas."
According to a media release Mr. Weatherill said it was astonishing that Mr. Marshall was giving up on the automotive industry just as South Australians were showing their support for the manufacturing workers through the More Than Cars campaign.
"While I've been standing with these workers and fighting for South Australian jobs, Mr. Marshall seems to want to ship them offshore," the Premier said.
"He has written off an industry that employs thousands of South Australians and is the basis for our advanced manufacturing future."
"Mr. Marshall's amateurish foray has been incredibly damaging."
Mr. Weatherill pointed out that Marshall even donned a More Than Cars campaign t-shirt outside the Parliament House and expressed his support for the cause.
The More Than Cars campaign encourages supporters to convert their business' fleets to Australian made cars.
The campaign already has some notable community organisations supporting the cause, including Cara, the South Australian Council of Social Service (SACOSS) and Master Builders Association of South Australia.
According to information from the campaign website the automotive industry creates up to 13,000 jobs in South Australia. It has 33 direct suppliers, 700 indirect suppliers and has an impact on thousands of businesses, workers and families in the State.