The Monash Centre for Atomically Thin Materials (MCATM) was officially launched at Monash University on Monday.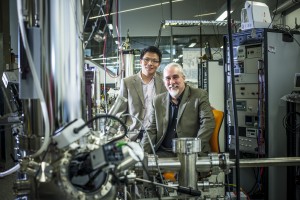 The MCATM is an international hub for research excellence in novel atomically thin materials such as graphene – a plane of carbon just one atom thick.
The Centre was officially launched with two key events: MCATM welcomed 250 delegates from 22 countries for a 5 day conference on graphene and 2D materials. In the afternoon, Nobel Laureate Sir Konstantin Novoselov from the School of Physics and Astronomy at the University of Manchester (UK), who, with Andrew Geim, first isolated graphene from graphite using sticky tape, gave a public lecture on "Materials in Flatland".
"It's great that Monash University is leading the way in the Southern Hemisphere in developing this new collaborative centre for focused research and development of atomically thin materials like graphene. It's critical that research institutions and industries across the world invest in this growth area which has huge economic impact and the potential to solve many of the world's pressing problems," Sir Novoselov said in a media release to Australian Manufacturing.
The new centre will offer new opportunities for boosting Australian manufacturing industries.
"These new materials which are only one or a few atoms thick offer enormous potential for industrial transformation across a diverse range of applications. From superior forms of energy storage and transparent electrodes for mobile phone displays to filtration membranes used in water treatment and biomedical applications in tissue regeneration, these 'wonder' materials are attracting the attention of companies worldwide, including in Australia which has rich reserves of the raw materials," Professor Michael Fuhrer, ARC Laureate Fellow in Monash's School of Physics and Astronomy and Director of the MCATM.
"Europe has already invested heavily in research and design for what is arguably the most disruptive and transformative material known. Significant research expertise in Australia and more widely in the Southern Hemisphere, combined with rich reserves of the raw materials need to be harnessed in such a way that Australia becomes recognised as a world leader in atomically thin materials research and commercialisation. By connecting research expertise and industry in one focussed 'hub', the new MCATM aims to do just that," said MCATM Co-Director Professor Dan Li, ARC Future Fellow in Monash's Faculty of Engineering.
For more detailed information on the Monash Centre for Atomically Thin Materials go to: www.monash.edu/atomically-thin-materials