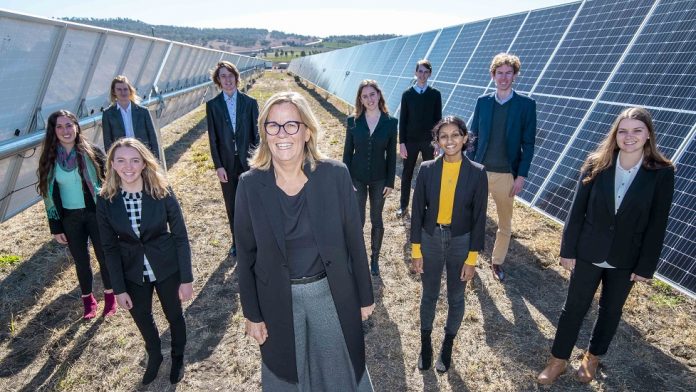 The University of Queensland has become the first university in the world to have all of its power come from its own renewable energy asset with the completion of a 64 megawatt solar farm at Warwick in the state's south east.
The $125 million Warwick Solar Farm will be able to generate about 160 GWh per year – the equivalent of powering more than 25,000 households or reducing coal consumption by more than 60,000 tons.
UQ Vice-Chancellor and President Professor Peter Høj said the new solar farm will support the research and development of innovative new energy solutions such as emerging battery energy storage and hydrogen conversion technologies.
"This isn't just an economic choice; industry and government look to us for expertise and leadership in renewable technologies and this asset will support a wide range of current and emerging research and industry partnerships across a broad array of disciplines," Mr Høj said.
"The generation profile of the solar farm provides an ideal opportunity for piloting emerging battery energy storage or hydrogen conversion technologies.
"It will keep our teaching and research at the forefront of the booming renewables industries, aided by the University's own large operational investments into sustainable engineering technologies over the past decade or more."
Queensland's Development Minister Kate Jones said up to 100 jobs were supported during the 15 months for construction of the solar farm, with six ongoing operation and maintenance jobs supported for the life of the project and a facility manager based at the site full time.
"Queensland is already a world leader in the take-up of household solar rooftops and this is another global energy title," Ms Jones continued.
"The global coronavirus pandemic is impacting economies around the world and Queensland is no different."
"Because Queenslanders have done such a great job fighting coronavirus, we can now focus on delivering Queensland's plan for economic recovery."
"Backing our renewable energy sector is an important part of that plan – this is about driving down emissions, putting downward pressure on power prices and creating jobs."
Image credit: https://www.uq.edu.au/